Chicken with Schmaltz Dumplings
Cookbook
Published by Hachette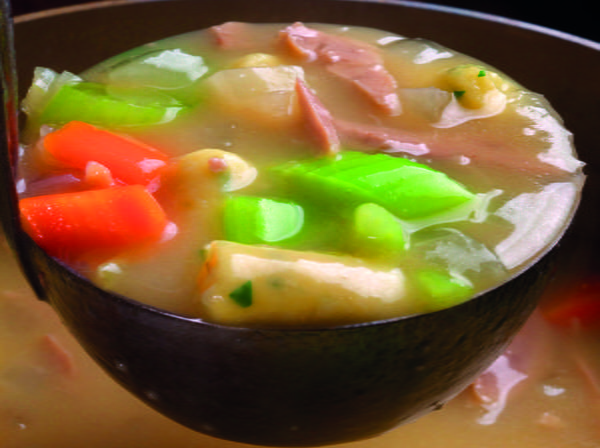 This image courtesy of Donna Turner Ruhlman
Chicken with dumplings is one of the most delicious and comforting meals I know, especially on a cold night. It's also economical and easy, especially if you have excellent stock on hand. Good stock is key, so if you plan ahead and make some easy chicken stock from the carcass of a roast chicken, this is a meal that can be put together in 30 minutes. What makes this version so special are the elegant, airy dumplings. These are pate a choux-based dumplings. Pate a choux is an underused, all-purpose dough that's incredibly versatile: it makes gougeres (cheese puffs), cream puffs, eclairs, and Parisienne gnocchi (a recipe for these follows). It's a great preparation to have in your repertoire. Water and butter are brought to a simmer; flour is added and quickly forms a paste. Eggs are beaten into the paste. The result can be baked, boiled, or fried, all to great effect. In this case, glorious schmaltz replaces the butter, but it's otherwise a traditional pate a choux ratio: 2 parts each water and egg, 1 part each fat and flour. Fresh herbs are stirred into the choux for color and flavor. You can use a number of different strategies to approach this dish. Here are two: one that assumes you have stock on hand (Version 1) and one completely from scratch, starting with a whole chicken (Version 2). I love the from-scratch method because it's a great way to utilize the whole chicken, but you need to make the stock from the chicken bones in advance, either early in the same day or up to 3 days before you intend to make the finished dish. A side benefit of making the stock in advance is that you can put the chicken skin in the freezer, which will make it easier to cut into small pieces. I recommend Version 2 for those who love to cook and have the time, and Version 1 for those who need to get a delicious, nourishing dinner on the table quickly.
Serves4
OccasionFamily Get-together
Dietary Considerationpeanut free, soy free, tree nut free
Taste and Texturemeaty, rich
Ingredients
¼ cup/60 grams schmaltz
Spanish onion, cut into large dice
Kosher salt
1 or 2 carrots, peeled and cut into bite-size pieces
1 or 2 celery stalks, cut into bite-size pieces
3 or 4 boneless, skinless chicken thighs (8 to 12 ounces/240 to 360 grams total), cut into bite-size pieces (or use leftover cooked chicken, or roast the thighs first, then chop them)
¼ to 1/3 cup/35 to 45 grams all purpose flour, depending on how thick you want your stew
Freshly ground black pepper
1 quart/1 liter chicken stock
1 recipe Parisienne Gnocchi, prepared up to the point where the dough is in the plastic bag (see below)
1 teaspoon white wine vinegar or lemon juice, or more to taste
Fresh tarragon, chives, or parsley, for garnish (optional)
1 cup/240 milliliters chicken stock or water
1/2 cup/120 grams schmaltz
1 teaspoon kosher salt
1 cup/140 grams all purpose flour
4 or 5 large eggs
1/4 cup chopped fresh herbs (parsley, chives, tarragon, or chervil, or a combination)
Instructions
In a large saucepan, heat the schmaltz over medium-high heat. Add the onion and an aggressive four-finger pinch of salt. Stir to coat with the fat, cooking for a minute or two. Add the carrots and celery and continue to cook for 5 to 10 minutes (don't burn them; reduce the heat to medium if necessary). Add the chicken. If using raw chicken, stir and cook till the chicken has lost all its color, about 5 minutes; if using cooked chicken, just stir briefly to heat it through.

Add the flour, stir to coat everything, and cook for a few more minutes. Give the meat and vegetables several grinds of pepper. Add the stock and stir continuously.

Scraping the bottom of the pan with a wooden spatula, until the stock thickens (turn the heat to high until it does, if you wish). When it begins to simmer, turn the heat down and let it cook for another 10 minutes.

Combine the stock, schmaltz, and salt in a medium saucepan over high heat. When the liquid reaches a simmer, lower the heat to medium, and add the flour.Stir continuously until all the water has been absorbed and a uniform paste has formed. Continue to cook, stirring, for another minute or two. Set the pot aside to cool for 5 minutes, or hold the bottom fo the pan under cold running water to cool it enough that the eggs don't cook when you add them.

Crack an egg into the pan and quickly stir it to combine (it will be slick at first, but the paste will soon embrace the egg). Repeat with the remaining eggs (4 is standard, but 5 will make it richer). Stir in herbs.

Invert a large zipper-top plastic bag over your hand and use it to gather up all the pate a coux, then re-invert the bag with the choux inside. Snip ½ inch/1.25 centimeters off one corner of the gnocchi bag and pipe the dough into the pot, cutting the dumplings off in 1½-inch/4-centimeter lengths.

Cook until the dumplings are done, about 5 minutes. Stir in the vinegar or lemon juice and taste the liquid. If it needs more salt or pepper, add it. If it needs more acidity, add more vinegar or lemon juice. Serve, garnishing with fresh herbs if you have them.
2013 Ruhlman Enterprises Inc.
YOUR RECENTLY VIEWED RECIPES
Free recipes, giveaways, exclusive partner offers, and more straight to your inbox!