Cookbook
Published by William Morrow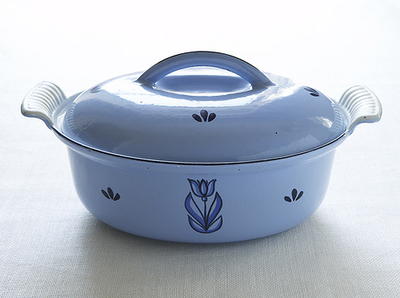 This image courtesy of Joseph DeLeo
Chili is a new parent-friendly dish: It's nutritious, it's filling, it's got tons of flavor, and it's hard to mess up. Maybe that's why I've included three different chili recipes in this cookbook? This Chicken Chili combines a fairly spicy broth with bite-sized chunks of tender white meat and mild white beans. It has a long Stage 3, but most of that time the chili is simmering away, unattended. I recommend using that loud kitchen timer (you do have one, don't you?), just in case you get distracted. Because let's face it, sleep-deprived people get distracted pretty easily. 
Make Baby Food: I'm not gonna lie: This is spicy. Some babies are fine with that—seriously, some really do like heat—but you know your own child. If he enjoys spicy food there's no reason not to let him try this, either pureed or as finger food. If not, reserve some of the rinsed beans, rice, sour cream, and cheese for him.

Mama Said: "My 11-month-old work up while we were on Stage 1 so I tossed her in the Moby, gave her a measuring spoon, and continued on my way. I measured the spices out into empty baby food jars, and that worked pretty nicely. My husband really liked the 'bite' of the finished dish. In face, he plays league hockey and told me that he didn't grab a snack at the concession stand after the game because he wanted to come home and have some of the leftover chili instead. I was a bit worried about it being too spicy for my daughter, but she didn't mind. I guess she's more like her dad than I know."—Monica W., mom of one, St. Louis, MO

Will my breastmilk be spicy? If you eat spicy food, yes, your breast milk will taste different to your baby. But that's not a bad thing! Unless you notice that your baby is fussy or seems unhappy after nursing, there's not reason for you to abstain from any kind of food. In fact, some experts believe that exposing your baby to spice via breastmilk (and even in utero) will make him more open to new flavors once he starts eating real foods.
Serves6

OccasionFamily Get-together, game day
Dietary Considerationegg-free, gluten-free, halal, kosher, lactose-free, peanut free, soy free, tree nut free
Taste and Texturehot & spicy, meaty, spiced
Ingredients
2 chipotles in adobo (scrape out the ribs and seeds for a milder chili)
1 cup water
2 large onions, chopped
4 celery ribs, chopped
4 tablespoons minced garlic, divided (approximately half a head)
2 tablespoons ground cumin
2 tablespoons chili powder
2 bay leaves
1½ teaspoons dried oregano
Salt
1 tablespoon cornmeal
1 tablespoon vegetable oil
2 pounds boneless, skinless chicken breasts, chopped into ¼-inch pieces
One 28-ounce can whole tomatoes, chopped
1½ to 2 cups low-sodium chicken broth
One 19-ounce can white beans, drained and rinsed
Cooked brown rice, shredded Cheddar cheese, sour cream, and chopped onion, for serving
Instructions
Puree the chipotles with the water in a blender and refrigerate.

Chop the onion, celery, and garlic. Put the onions, celery, and half of the garlic in one bowl and cover, Put the remaining garlic in a separate bowl and cover. Refrigerate both bowls.

Combine cumin and chili powder in a small bowl. Combine bay leaves, oregano, and 1 teaspoon salt in another small bowl. Measure cornmeal into a third bowl.

Heat the oil in a large, heavy pot or Dutch oven over medium heat. When it shimmers, add the onion mixture and cook, stirring occasionally, until softened, about 10 minutes.

Add the cumin and chili powder and cook, stirring, for 30 seconds.

Remove from heat; cool slightly, cover, and refrigerate.

Stage 3 (1½ hours, 30 minutes active)

Return the pot to the stove over low heat. When the mixture has warmed, increase heat to medium, add chicken, and cook, stirring, until chicken is no longer pink, about 8 minutes.

Add the chipotle puree, chopped tomatoes, broth, bay leaves, oregano, and salt, and simmer, uncovered, adding more water if necessary to keep the chicken barely covered, 1 hour.

Add the cornmeal and simmer, stirring occasionally, 15 minutes.

Stir in the white beans and remaining garlic and simmer until the beans are heated through, 3 to 5 minutes.

Adjust salt to taste, and discard bay leaves before serving over brown rice with cheese, sour cream, and chopped onion.
2012 Debbie Koenig
YOUR RECENTLY VIEWED RECIPES