Chicken and Walnut Pâté with Smoky Paprika
Updated February 23, 2016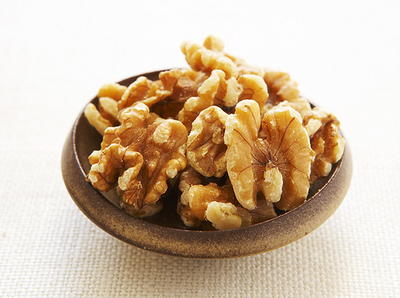 This image courtesy of Joseph DeLeo
I call this creamy chicken salad recipe pate because it is similar in consistency to rillettes, which is a type of French pâté. Rillettes are made by cooking rabbit, duck, or pork slowly in a lot of fat until very tender; the meat is then shredded and mixed with enough cooking fat to form a paste, which is served on sliced bread. In this recipe, I use nuts, bread, and chicken poaching liquid to bind the chicken meat, for a creamy consistency without all the fat. Using nuts as a thickening agent is a sophisticated, heart-smart, healthful Arabic cooking technique (see Garlic and Almond Soup).
This pâté recipe is a twist on Circassian chicken, a classic Ottoman dish. The Russians forced the Circassians out of their homeland in the North Caucasus Mountains in the 1860s, and 90 percent of these people fled to Turkey. Circassian women-renowned for their beauty and their cooking-were captured by or traded to the sultans and became part of the harem and cooking staff in the Turkish palaces. The first time I prepared Circassian chicken was in 1999, when I was chef at the Casablanca restaurant in Harvard Square. Clifford Wright, the author of A Mediterranean Feast (a book that took him ten years to write and is my favorite reference on Mediterranean cooking), came into the kitchen and said. "No, it must be creamier." He helped me understand the proper texture. And then when I first met my friend Harnza Zeytinoglu, of Circassian descent and hailing from Istanbul, he literally jumped for joy after I mentioned that I offered Circassian chicken on my menu at the Casablanca. Hamza came into the restaurant to try the dish and said. "No, it must be spicier." So this recipe was perfected by the palates of both Cliff and Hamza. It's fun to play with the chilies, altering the spiciness according to your preference. Traditionally, cilantro is a main ingredient in Circassian chicken, but I like to use scallions instead, because I think the cilantro distracts from the beautiful flavor combination of smoky chilies and walnuts.
This recipe freezes very well. Serve the pâté with a dry muscat from Portugal to make a perfect aperitif as a mezze course with homemade crackers (see recipe for Crick-Cracks).
OccasionBuffet, Cocktail Party
Recipe Courseantipasto/mezze, hors d'oeuvre
Dietary Considerationegg-free, gluten-free, peanut free, soy free
Taste and Texturecreamy, garlicky, hot & spicy, nutty, savory, spiced
Ingredients
1 whole free-range chicken (about 3 pounds)
1 cup dry white wine (if you are drinking the portuese muscate, use that)
1 small carrot, cut in half
½ onion, peeled and cut in half
10 black peppercorns
4 whole allspice berries
2 bay leaves
Ice cubes
¼ pound french bread, most of the crust removed (about ½ baguette)
2 cups walnut pieces halves
2 tablespoons finely chopped garlic (about 6 cloves)
½ cup walnut oil
Salt and pepper to taste
¼ cup sour cream
6 scallions, bottoms trimmed and finely chopped
1 teaspoon Aleppo chilies
1½ teaspoon smoked paprika
Crick-Crack or your favourite crackers
Condiments (pickled hot peppers, addtional Aleppo chilies whole radishes, remaine leaves)
Instructions
Place the chicken in a large pot, add the wine and enough water to cover it. Add the carrot, onion, peppercorns, allspice, and bay leaves and bring them to a gentle boil over high heat. Turn the heat down to medium-low so that the pot just simmers; the chicken will be tough if the water boils too hard. Cover partially with a lid and poach for about 30 minutes. The leg should pull off the chicken easily when you tug at it with a pair of tongs,

Remove the chicken and place it on a baking sheet to cool. Continue cooking the liquid on low heat, simmering, until it reduces by half, 30 to 40 more minutes.

Strain the liquid through a fine sieve into a small, deep bowl.

Fill a medium mixing bowl with ice and add some cold water to create an ice bath. Set the bowl of broth in the bowl of ice and drop 2 ice cubes into the broth. This will help the fat rise to the top quicker and the liquid to cool so that it can be skimmed,

After the broth is cool, skim the fat off using a ladle or spoon in a circular motion. Discard the fat,

When the chicken is cool enough to handle, discard the chicken skin and pull the meat off of the bones, using your fingers. Discard the bones.

Shred the meat so that it forms thin strands, like broken fettuccine. You can do this with your hands or pull the meat toward you in little pieces with a fork. The last alternative is to chop the meat coarsely with a knife, which is the quickest technique but doesn't allow for an extremely creamy rillete texture. Place the shredded chicken in a medium mixing bowl and set aside.

Soak the bread in a little more than ½ cup of the chicken broth for a few minutes, until soft. Stir the bread to coat it with the broth and allow it to soak evenly.

Using a food processor fitted with a metal blade, purée the walnuts with the garlic until they are ground to a paste.

. Squeeze the bread dry with your hands and add it to the walnut paste in the food processor. Purée until the paste becomes homogeneous and creamy, stopping once to scrape the bowl. You will have a thick paste that forms ball.

. Scrape the mixture into a medium mixing bowl and whisk in about 1½ cups of the broth mixture to make a mayonnaise consistency.

. Whisk in the walnut oil and season with salt and pepper.

. Stir in the shredded chicken, sour cream, scallions. Aleppo chilies, and paprika. Add more broth to make the pate creamier or more Aleppo chilies to make it spicier.

. I like to serve this paté in a crock or Luminarc jar-the French glass jar that has a flip-top lid with a rubber gasket-with a wooden spreader. Serve with crackers and condiments.
2006 Ana Sortun
YOUR RECENTLY VIEWED RECIPES