Cookbook
Published by Workman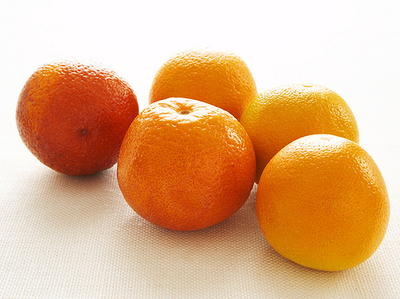 This image courtesy of Joseph DeLeo
This homemade confection is absolutely incomparable to the awful stuff available around Christmastime in supermarkets. Those brightly coloured bits are often unpleasantly artificial-tasting, not to mention distractingly bitter. This is due to the fact that they most likely are all made from the same type of citrus fruit, called a citron, and dyed various neon shades to emulate lemon, orange and grapefruit peel. Citrons do not have the subtle flavour of these other fruits, however, and the result has given candied peel a bad name. (Personally, I tend to avoid anything sporting dots and pockets of these electric-hued morsels.) Orange peel, when blanched several times to rid it of its bitterness, and long-cooked in a rich sugar syrup, can be a phenomenal addition to all sorts of baked goods, fillings, compotes and sauces, as well as a beautiful garnish. You can make this recipe using the orange peel, as below, or with the peel of 6 lemons, 2 small grapefruits or 8 to 10 limes—all are equally delicious, and will forever erase the memory of those other peels.
The peels preserved in their syrup are a wonderful addition to cake batters, muffins, cookies, biscuits and scones, compotes, ice creams, puddings—the list is endless! Finely chopped, they provide a lovely citrus flavour and a pleasantly chewy texture, similar to a plump raisin or other dried fruit. The tiny cubes look like jewels when used to garnish desserts or dessert plates, sprinkled over a fresh fruit compote or twinkling in a pool of creme anglaise. The possibilities are truly limitless. The sugared and dried peels are sweet, intensely flavoured little candies, excellent plain or with one end dipped in bittersweet or white chocolate. They are a beautiful addition to a platter of petits fours or after-dinner confections and make great holiday gifts. Finely chopped, they can also be added to batters, doughs and other desserts. I like to decorate cakes, puddings and ice creams with long strips of the sparkling peel, adding a chewy, bright-tasting counterpoint to flavours such as chocolate, nuts, other citrus fruits and tropical fruits. The thick, intensely orange-infused syrup is a rich ingredient on its own: try adding a few tablespoons to a fruit compote or warmed and ladled over a homemade ice cream or pound cake. On pancakes, French toast and even gingerbread, it adds a lovely fruity sweetness and gives a subtle citrus flavour to cakes, custards and creams, and anywhere else it is used. Be creative!


40 to 60 pieces of candied peel
OccasionCasual Dinner Party, Family Get-together, Formal Dinner Party
Dietary Considerationegg-free, gluten-free, halal, kosher, lactose-free, peanut free, soy free, tree nut free, vegan, vegetarian
Five Ingredients or LessYes
Taste and Texturechewy, fruity, sweet
Type of Dishdessert, fruit
Ingredients
3 large navel oranges, washed and dried
2¼ cups granulated sugar, plus 1 cup for coating the cooked peel
1½ cups water, preferably still spring or filtered water
Additional water (good tap water is fine for this) for blanching, and for washing down the sides of the pot
Instructions
Cut the oranges in quarters and juice them into a clean container. (Reserve this juice for another use, or freeze until needed.) With a teaspoon or a grapefruit spoon, scrape out the pulp and membranes from the skins and discard, leaving the clean white pith on the inside of each quarter. Place the quarters colour-side up on a cutting board and use a sharp knife to cut the skin into ¼-to 1/3-inch-wide slices. Fill a heavy-bottomed, 2-quart saucepan with water and bring it to a boil. Add the slices of peel and simmer for about 5 minutes. Drain and discard the water, then fill the saucepan again with fresh water. Repeat this process of bringing the water to the boil, adding and simmering the peel and draining two more times. This process removes the bitterness from the peels, leaving only the pure orange flavour.

When the peels have been drained for the third time, combine the 2¼ cups of sugar and the 1½ cups of water in the same saucepan. Place the pan over medium-low heat and stir until the sugar melts. Add the peels, bring the mixture to a gentle boil, then reduce to a simmer. Using a pastry brush dipped in cool water, wash down the sides of the pot, to prevent burning or crystallization of the syrup. Cook the peels for 1 to 1½ hours, until they are very soft, tender and sweet. Most of their moisture will have been replaced with the rich sugar syrup, and they will be extremely hot, so take care when removing them from the syrup.

You have several choices at this point: you can leave the peels in their lovely syrup, in which they will stay very moist and flexible, or you can roll the peels in the reserved sugar, dry them and use for garnishing desserts, or as a confection. I usually make some of each—the recipe is generous, and I can always find uses for either! For moist peel, simply cool the peels and their syrup until just lukewarm, then transfer the whole lot to a clean container, cover and refrigerate. The peel and syrup will keep for up to 3 weeks; if any suspicious-looking white, furry or unidentified patches appear on the surface of the mixture, however, discard the batch, as it has likely been infiltrated by yeasts or moulds.

For dried, sugared peel, spread the reserved 1 cup of sugar on a baking sheet. Have ready a large wire rack set over another baking sheet or piece of parchment paper. Remove the strips of peel from the hot syrup and place them on the sugared tray. Roll each piece in the sugar until well coated, then transfer it to the wire rack. Make sure the peels are not touching, and that there is enough space around each one for air to circulate. When all of the pieces are sugared, leave the peels on the rack at room temperature overnight or until dry. (This should not be attempted in humid weather.) Store the sugared peel, layered between sheets of parchment or waxed paper, in an airtight container at room temperature, for up to 2 weeks. The syrup can be kept as well, stored in a covered container in the refrigerator, for 2 to 3 weeks.
2001 Regan Daley
YOUR RECENTLY VIEWED RECIPES
Free recipes, giveaways, exclusive partner offers, and more straight to your inbox!