Calamari Crunch
Updated February 23, 2016
Cookbook
Published by Stewart, Tabori & Chang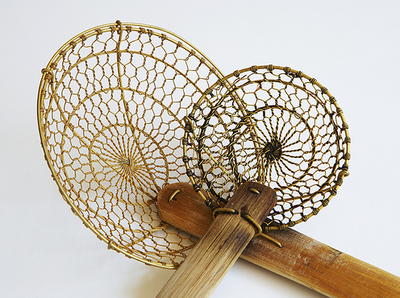 Fried calamari may be the most popular restaurant appetizer in all of Christendom. I'm amazed that McSquid hasn't started popping out of drive-thrus worldwide. And yet we never make it at home. I asked a calamari-crazed friend of mine recently why this was. He simply replied, "Man, that's strictly restaurant food." That's silly. Calamari is a great home dish for snacking or entertaining. What's more, it plays well with others. Top a simple plate of spaghetti and tomato sauce with a handful of these golden rings and you've got… restaurant food. (By the way, feel free to replace the secret ingredient, Rice Krispies, with any brand of puffed rice cereal.)
If you're serving a crowd, fight the temptation to cook too large a batch. Move your draining rig to a warm oven and stockpile the calamari as it's cooked-it will keep for up to 30 minutes without becoming rubbery.


2 servings
OccasionCocktail Party, Formal Dinner Party, game day
Dietary Considerationegg-free, lactose-free, peanut free, soy free, tree nut free
Taste and Texturecrisp, light, salty
Ingredients
½ pound calamari
1 cup buttermilk
¼ cup water
1 cup cornstarch
1 cup all purpose flour
1 cup Rice Krispies, ground fine in a food processor
2 teaspoons table salt (kosher salt will sink to the bottom of the dredge)
1 tablespoon freshly ground white pepper
2 quarts safflower or peanut oil
Small hand strainer
Mixing bowl just large enough to hold the strainer
Scalable plastic container
Large, long-handled, wide-mesh hand strainer (referred to in the trade as a "spider')
Clean plastic placemat
Electric fryer or heavy Dutch oven fitted with a fat/candy thermometer
Draining rig
Immersion-Frying
Instructions
Clean the calamari, removing the head and ink sac if necessary, and then the cartilage; rinse thoroughly. Cut the tubes of calamari into rings and make sure the beak has been removed from the tentacles. In a mixing bowl, combine the buttermilk and water, then place the small hand strainer inside the bowl. Add the calamari and toss to coat with the liquid.

Add only enough oil to fill the fryer half-full, then heat the oil to 350°F.

Meanwhile, in the plastic container combine the cornstarch, flour, cereal, salt, and pepper. Close the container and shake to combine.

When the oil is hot, use the strainer to lift the calamari from the liquid, let it drain, and then transfer to the dredge mixture, scattering the pieces so they do not clump. Reseal the container and shake until the calamari is evenly coated.

Using the spider and working over a plastic placemat, lift the calamari from the dredge, gently shake off any excess flour, and drop into the oil. Once the first burst of steam settles down, gently push down on the calamari with the spider to make sure that the rings don't fuse together.

Work in batches to avoid overcrowding the oil. Folding the placemat like a funnel, return any excess flour mixture to the container and add more as needed.

Allow the calamari to cook until it is just golden in color and floats to the surface of the oil, about 30 to 45 seconds. Remove one ring, cool it briefly, and give it a taste. If the crust has crunch and the calamari feels soft, you can remove the entire batch to the draining rig with a sweep of the spider. If you want a little more color, let it cook a little longer, but remember that calamari gets tough when overcooked.

Repeat with the remaining calamari.
2002, 2006 Be Square Productions
YOUR RECENTLY VIEWED RECIPES