Braised Finocchio with Olive Oil
Cookbook
Published by Knopf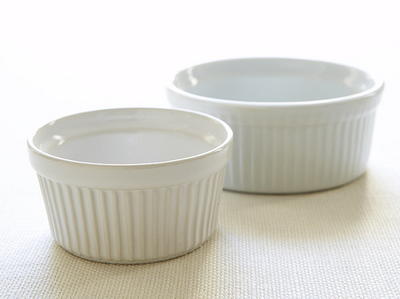 This image courtesy of Joseph DeLeo
Although there is an English equivalent for finocchio-Florence fennel- for many cooks it's the Italian word that has achieved everday usage. Fennel is related to anise, but its cool, mild aroma has none of its kin's sharpness. People eat finocchio raw, in salads, but it is an exceptionally fine vegetable for braising, sauteing, gratineing, and frying. The bulbous base is the part that is used, while the stems and leaves are usually discarded. When wild fennel is called for but not available, finocchio's leafy tops are a tolerable substitue.
When and how to buy: The best season for finocchio, when it is juiciest and its fragrance is sweetest and freshest, is from fall to spring, but it is also available in summer. Italians distinguish between male and female finocchio, the first with a stocky, round bulb, the latter flat and elongated. The "male" is crisper and less stringy, and it has a finer scent, qualities that are particularly desirable when it is to be eaten raw. For cooking, the flatter bulb is acceptable, but as long as it's equally fresh, the thicker, rounder one will always taste better.
For4 servings

Dietary Considerationvegan, vegetarian
Five Ingredients or LessYes
Ingredients
3 large finocchi (Florence fennel) OR 4 to 5 smaller ones
1/3 cup extra virgin olive oil
Salt
Instructions
Cut the finocchio tops where they meet the bulb and discard them. Detach and discard any of the bulb's outer parts that may be bruised or discolored. Slice off about 1/8 inch from the butt end. Cut the bulb vertically into slices somewhat less than ½ inch thick. Wash the slices in several changes of cold water.

Put the finocchio and the olive oil in a large saucepan, add just enough water to cover, and turn on the heat to medium. Do not put a lid on the pot. Cook, turning the slices over from time to time, until the finocchio becomes colored a glossy, pale gold and feels tender when prodded with a fork. Bear in mind that the butt end of the slice should be firm compared with the softer upper part of the slice. It should take between 25 and 40 minutes, depending on the freshness of the finocchio. If while cooking you find the liquid in the pan becoming insufficient, add up to 1/3 cup water. By the time the finocchio is done, all the water must be absorbed. Add salt, toss the slices once or twice, then transfer the contents of the pan to a warm platter and serve at once.

Variation with Butter and Parmesan: Omit the olive oil in the ingredients list of the preceding recipe, and add 1/4 cup butter and 3 tablespoons freshly grated parmigiano-reggiano cheese. Follow the cooking procedure described in the recipe above, substituting butter for the olive oil. When the finocchio is done, sprinkle with salt, add the grated Parmesan, toss three or four times, then serve at once.
1992 Marcella Hazan
YOUR RECENTLY VIEWED RECIPES