Boiled Beef Slices in a Fiery Sauce
Updated February 23, 2016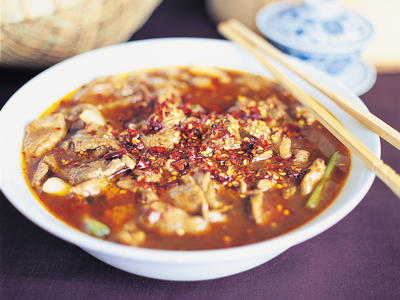 This image courtesy of Tara Fisher
Sichuanese people joke that outsiders, wary of the fiery local flavors, order this dish in restaurants in the hope of eating something mild and soothing – its name in Chinese just means "beef boiled in water". In fact it's sensationally hot, a dish based on lashings of chili bean sauce and finished off with a sizzling pile of ground chiles and lip-tingling Sichuan pepper. It's said to have originated in Qigong, the city poetically known as Sichuan's "salt capital" (yan du) because it was the center of the region's historic salt-mining industry. Oxen used to drive the machinery that drew up the salty liquid buried deep in the earth; the brine was then evaporated over a fire to leave an unusually pure and intensely flavored salt. The oxen, poor things, ended up in dishes like this one, which did at least nourish the salt workers as they carried out their punishing outdoor labor. It's not for the fainthearted, but if you have a taste for spicy food, it's fabulous, and perfect for a cold winter's day when you need firing up with energy and warmth. As they say in Sichuan, it'll make you pour with sweat, even on the coldest days of the year. Serve it with plenty of plain white rice. You will need a large, deep serving bowl for this dish.
Serves2 as a main dish, 4 with rice and two or three other dishes
Cooking Methodstir-frying
OccasionCasual Dinner Party, Family Get-together
Dietary Considerationegg-free, gluten-free, halal, kosher, lactose-free, soy free, tree nut free
Taste and Texturehot & spicy, meaty, savory
Ingredients
1 head celery (about 1 pound)
4 scallions, white and green parts
A small handful of dried chiles (8-10 chiles)
About 1 pound lean beef (flank steak is good)
Salt
1 tablespoon Shaoxing rice wine or medium-dry sherry
About 1/3 cup peanut oil
2 teaspoons Sichuan pepper
3 tablespoons chili bean paste
3 cups chicken stock
2 teaspoons dark soy sauce
4 tablespoons potato flour mixed with 4 tablespoons cold water, or 6 tablespoons cornstarch mixed with 6 tablespoons cold water
Instructions
Clean and remove the fibrous outer edge of the celery stalks. Chop each stalk into 3 or 4 sections, then slice these lengthwise into ½-inch sticks. Gently crush the scallions and chop them into 3 sections to match the celery. Wearing rubber gloves, snip the chiles in half, discarding as many seeds as possible. Remove any fat from the beef and cut it, against the grain, into thin slices about 1 inch by 2 inches (you should have about ¾ pound of beef after trimming). Add a ¼ teaspoon of salt and the Shaoxing rice wine, mix well, and leave to marinate while you prepare everything else.

Heat 3 tablespoons of oil in a wok until hot but not yet smoking. Add the chiles and Sichuan pepper and stir-fry until they are fragrant and the chiles are just beginning to brown (take care not to burn them). Then immediately slide the spices out into a bowl, leaving the oil in the wok. When they have cooled down a little, move them onto a cutting board and chop them finely with a gentle rocking motion, using a cleaver taken in both hands or a two-handled chopper. Set them aside to use later.

Return the oily wok to the stove and heat over a high flame. When it is smoking, add the vegetables and stir-fry for a minute or two, adding ¼-½ teaspoon of salt to taste, until they are hot and just-coked but still crunchy. Then pour them into the serving bowl.

Heat another 3 tablespoons of oil in the wok over a high flame, until just beginning to smoke. Turn the heat down to medium, add in the chili bean paste, and stir-fry for about 30 seconds, until the oil is red and fragrant. Add the stock and the dark soy sauce, season to taste with salt, and return to a boil over a high flame. Then add the potato flour or cornstarch mixture to the beef and stir well in one direction to coat all the pieces. When the sauce is boiling vigorously, drop in the beef slices. Wait for the sauce to return a boil and then use a pair of chopsticks to gently separate the slices. Simmer for a minute or so, until the beef is just cooked, and then spoon it onto the waiting vegetables. Pour over the sauce.

Swiftly rinse out the wok and dry it well. Heat another 3-4 tablespoons of oil in the wok until smoking. Sprinkle the chopped chiles and Sichuan pepper over the beef dish and then pour over the smoking oil, which will sizzle dramatically. If you move quickly, the dish will still be fizzing when you bring it to the table.

Exactly the same method can be used to cook slices of pork or fish, as well as eels and exotic seafood. If you are using eels or whole fish, you won't need the potato flour or cornstarch that keeps the slices slippery-soft in the recipe above.

The vegetable part of the dish can be varied at will: in Sichuan they often use Chinese leeks, lettuce stems, or bean sprouts, whether on their own, mixed together, or with celery. The important thing is to have something fresh and crunchy to contrast with the soft, rich meat.
2001 Fuchsia Dunlop
YOUR RECENTLY VIEWED RECIPES