Blood Orange Olive Oil Cake
Cookbook
Published by Hyperion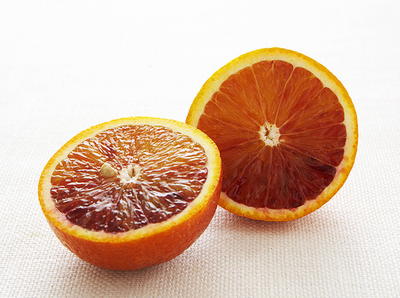 This image courtesy of Joseph DeLeo
One of my favorite wedding gifts is a whimsical, undulating porcelain cake stand with a domed glass cover. Presiding over the counter like an elegant dowager, its presence cajoles: "Isn't it time to make some lovely cake?" For a cake enthusiast like myself, the answer is always yes, and I've been building up a small repertoire of quick, easy cakes that I can whip up without turning on (and later cleaning) the food processor or electric mixer. The key is using liquid fat (melted butter or oil) that doesn't require creaming, and chemical leavening (baking powder and/or soda) to eliminate the vigorous beating of eggs. Usually I rely on melted butter for the fat. Although the results aren't as light textured as oil-based cakes, I like butter's richer, more complex flavor. These sweets have kept my cake stand occupied for the better part of my marriage. But now that baby makes three, there's been a hitch. Our infant's diagnosis of gastroesophageal reflux disease led to the suggestion that I, her breast-feeding mama, give up cow's milk dairy. And this meant butter. Of course I could have just put my cake baking on hold during my abstinence. But that empty cake stand just made me sad. Besides, I could still eat sugar and eggs and flour, so as long as I substituted oil for butter, my confectionary intake need not be affected. As I read through recipes calling for vegetable oil, it occurred to me that my favorite oil is olive. So why not use that? Plus, unlike the blander oils, good olive oil has character. I've had olive oil cakes in the past and liked their pronounced flavor. I even baked one once, though it required beating yolks and whites separately with an electric mixer, which disqualified it from the quick and easy category. Could I bake a similar cake without all the egg beating? I turned to the internet to see if I could find a recipe. A few clicks brought me to Dorie Green-span's extra-virgin olive oil cake, which seemed like a cinch. The only catch was that Ms. Greenspan called for yogurt. But a quick substitution of sheep's milk yogurt fixed that. Her recipe also called for lime zest, which I didn't have. But I did have some nice blood oranges, and grated the peel from those instead. That left me with two denuded oranges, which, I feared, would fossilize before I had a chance to eat them. A small wave of anticipatory guilt that I'd have to throw out fruit that cost $1.50 each made me decide to use them immediately. I juiced one and chopped up segments from the other, adding it all to the cake batter and reducing the yogurt to compensate for the extra liquid. While the cake was baking, every corner of the house pulsed with the scents of citrus and olive. I could barely wait for my cake to cool before cutting a sliver. It was every bit as good as my more buttery confections, but with a distinct herbal flavor from the oil and juicy bits of orange strewn throughout the very fine crumb. Although the recipe also works perfectly with regular oranges, the cut loaf, dappled with ruby dots of blood orange, is much prettier. And it looks better in the cake stand, too.
To make the Honey-Blood Orange Compote, supreme 3 more blood oranges according to the directions above. Drizzle in 1 to 2 teaspoons honey. Let sit for 5 minutes, then stir gently.
Serves8 to 10
Dietary Considerationhalal, kosher, peanut free, soy free, tree nut free, vegetarian
Taste and Texturefruity, sweet, tart
Type of Dishcake, dessert
Ingredients
3 blood oranges
1 cup sugar
Buttermilk or plain yogurt
3 large eggs
1¾ cups all purpose flour
1½ teaspoons baking powder
¼ teaspoon baking soda
¼ teaspoon salt
2/3 cup extra virgin olive oil
Whipped cream, for serving (optional)
Honey-Blood Orange Compote, for serving (see Notes), optional
Instructions
Preheat the oven to 350°F. Grease a 9 x 5-inch loaf pan. Grate the zest from 2 oranges and place in a bowl with the sugar. Using your fingers, rub the ingredients together until the orange zest is evenly distributed in the sugar.

Supreme an orange: Cut off the bottom and top so the fruit is exposed and the orange can stand upright on a cutting board. Cut away the peel and pith, following the curve of the fruit with your knife. Cut the orange segments out of their connective membranes and let them fall into a bowl. Repeat with another orange. Break up the segments with your fingers.

Halve the remaining orange and squeeze the juice into a measuring cup. You'll have about ¼ cup or so. Add buttermilk or yogurt to the juice until you have 2/3 cup liquid altogether. Pour the mixture into the bowl with the sugar and whisk well. Whisk in the eggs.

In another bowl, whisk together the flour, baking powder, baking soda, and salt. Gently whisk the dry ingredients into the wet ones. Switch to a spatula and fold in the oil a little at a time. Fold in the orange segments. Scrape the batter into the pan and smooth the top.

Bake the cake for about 55 minutes, or until it is golden and a knife inserted into the center comes out clean. Cool on a rack for 5 minutes, then un mold and cool to room temperature right side up. Serve with whipped cream and Honey-Blood Orange Compote, if desired.
2010 Melissa Clark, Inc.
YOUR RECENTLY VIEWED RECIPES