Black Chickpea Curry
Cookbook
Published by Surrey Books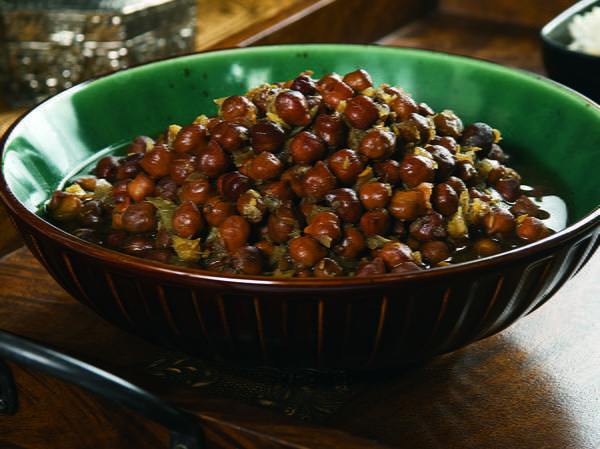 This image courtesy of Brave New Pictures, Inc.
These chickpeas are nothing like their white counterparts. They are smaller, brownish black in color, and extremely thick-skinned. They have a warm, earthy flavor that I sometimes prefer over white chickpeas. My father always laughs when he hears that my kids have been eating this for dinner. He says that in his day, they fed horses black chickpeas because they are so high in protein, and that my kids will be as tough as stallions. That remains to be seen. This bean has such a tough skin that even after hours of cooking it doesn't break down on its own. When I was younger, I ate it over rice and loved the flavor-infused, soupy part of the dish so much that I'd discard the heavy beans that sank to the bottom of my bowl. To keep your own kids from doing this, I recommend mashing some of the beans with a large spoon at the end of the cooking process.
NotesSlow cooker size: 5-quart

 

To make this dish in a 3½-quart slow cooker, halve all the ingredients and proceed with the recipe. A half recipe makes 7 cups (1.66 L).

Chickpeas:

Who would have thought that chickpeas could be so varied and interesting? Most of us are used to the chickpea that is used most commonly around the world: the yellow chickpea, chickpea, or Bengal gram. In Hindi, it's called kabuli chana, and it's used in dishes that have a lot of gravy and dishes where the beans are cooked until soft, but with little gravy.

A lesser-known variety of the traditional chickpea is the black chickpea, or kala chana. As its name suggests, this bean looks like a chickpea, but it's about half the size and blackish brown. It's extremely high in protein and needs to be cooked longer than its white counterpart. Even after cooking, though, keep in mind that this bean is a tough little cookie. It will never be as soft or break down as much as other beans and lentils. But don't worry-it's still delicious.

Can these recipes be made on the stovetop?

Absolutely. Just keep in mind that when cooking on the stove, you'll use a quarter more water because liquids evaporate. So, if a slow cooker recipe requires 4 cups of water, use 5 cups when making it on the stovetop. Also, though you can keep your pot at a low simmer on the stovetop, you still always want to keep an eye on it to prevent drying and burning. If food-especially beans and other legumes-starts to dry out, just add more water and continue to cook.

The rule in the land of slow cookers is usually never to open the lid while cooking for fear of losing critical heat and slowing down the cooking process. This may be true, but I have a tough time following the rules myself. Also, there are some dishes, such as Curried Spinach with Homemade Cheese (Palak Paneer), that need to be stirred during cooking. Know that the cooking times cited in my recipes reflect my inability to keep the lid shut, so to speak. Just do your best to limit peeking. A good rule-of-thumb is to add about 5 minutes of cooking time for every time you lift the lid.


13 cups (3.075 L)
Cooking Methodslow cooking

Recipe Coursemain course, side dish
Dietary Considerationegg-free, gluten-free, halal, kosher, lactose-free, peanut free, soy free, tree nut free, vegan, vegetarian
Taste and Texturehot & spicy, spiced
Ingredients
3 cups (603 g) dried black chickpeas (see Notes), cleaned and washed thoroughly
1 medium yellow or red onion, peeled and quartered
1 medium tomato, quartered
1 (2-inch [5 cm]) piece ginger, peeled and roughly chopped
4 cloves garlic, peeled
4-6 green Thai, serrano, or cayenne chiles, stems removed
1 tablespoon (15 mL) cumin seeds
1 teaspoon (5 mL) turmeric powder
1 teaspoon (5 mL) red chile powder
2 tablespoons (30 mL) salt
7 cups (1.66 L) water
2 tablespoons (30 mL) cilantro
2 tablespoons (30 mL) lemon juice
Instructions
Place the black chickpeas in the slow cooker.

In a food processor, puree the onion, tomato, ginger, garlic, and green chiles into a paste. Add this mixture to the slow cooker.

Add the cumin, turmeric, red chile powder, salt, and water to the slow cooker.

Cook on high for 9 hours.

Using the back of a spoon, an immersion blender, or a regular blender, mash about a third of the beans.

Add the cilantro and lemon juice. Serve with steaming bowls of basmati or brown rice.
2010 Anupy Singla
YOUR RECENTLY VIEWED RECIPES
Free recipes, giveaways, exclusive partner offers, and more straight to your inbox!