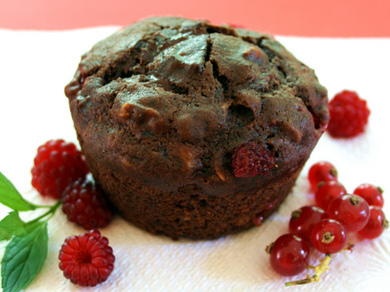 This image courtesy of Hannah Kaminsky
If berry-picking were an Olympic sport, I'm almost certain that my dad and I would at least take a place on the podium. We've certainly been training enough; heading out into the "wilderness" after we both get home from work, hunting for that handful of perfect, jewel-like clusters for hours at a time. Truth be told, my dad's definitely the one who would take gold in this sport, not me. He's the one who isn't afraid to push deep into the piles of thorns, entering unknown and possibly hostile territory, filling up buckets of the most ripe, plump berries that no one else can reach. If it weren't for his enthusiasm, our bounty of raspberries would be rather pathetic indeed. Although his efforts may manifest as long, cat-like scratches tracing up the lengths of his arms, they also resulted in the biggest berry haul we've ever had. There were fresh berries, of course, but even I couldn't consume the surplus of raspberries quickly enough, so I took many approaches to preserving our delicious haul. Before long, we had frozen berries, dried and dehydrated berries, pureed berries, and of course, baked berries. These local gems are actually far more tart than the standard commercial variety, so they seemed destined to be included in some baked goods, balancing out the sugar perfectly and creating a harmonious combination of sweet and tart. Opting to use up some of the lovely red currants waiting in the fridge as well, I ended up with a simply constructed but complex-tasting chocolate muffin. Although they may be a bit too sweet for breakfast, I find that these can be a wonderful snack, or a slightly healthier choice over a full-fledged, frosted cupcake. Whenever you decide to eat one though, you'll be glad that you did!

Dietary Considerationegg-free, healthy, high fiber, kosher, lactose-free, low cholesterol, peanut free, soy free, tree nut free, vegan
Taste and Texturechewy, fruity, sweet, tart
Ingredients
1 cup orange juice
1/2 cup oil
1/2 cup dark brown sugar, packed
1/2 teaspoon salt
2 cups light spelt flour (or whole wheat pastry flour)
1 teaspoon baking powder
1/2 teaspoon baking soda
1/2 cup rolled oats
1/4 cup Dutch-processed cocoa powder
1/4 teaspoon cinnamon (Optional)
1/2 cup fresh red currants
1/2 cup raspberries
1/2 cup semisweet chocolate chunks or chips
Instructions
Preheat your oven to 350 degrees and lightly grease 12 muffin cups.

To assemble these muffins, start by combining the orange juice, oil, brown sugar, and salt together in a large bowl. Stir to combine, and set aside.

In a separate bowl, sift together the spelt flour, baking powder and soda, oats, cocoa, and cinnamon. Throw all of your berries and chocolate chunks into the dry mixture, and toss gently to coat. Pour the wet ingredients into the bowl of dry, and stir carefully so as not to break up the berries. Once just combined, spoon the batter into your prepared muffin cups, filling them up about 3/4 of the way to the top. It might seem like a lot of batter, but trust me, it will all fit into those 12 cups!

Bake for 18 – 22 minutes, until a toothpick inserted into the center comes out clean. Let rest in the pans for 10 minutes before turning the muffins out and cooling them completely on a wire rack.
2016 Hannah Kaminsky
YOUR RECENTLY VIEWED RECIPES