Beef Shish Kebobs with Sumac Onions and Parsley Butter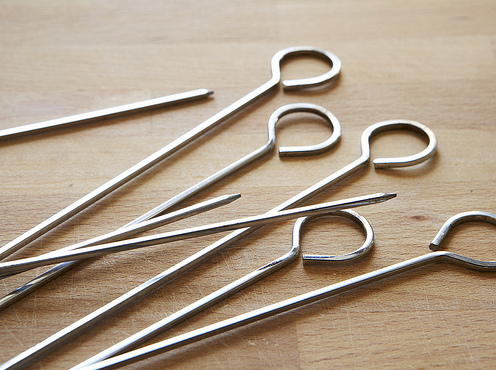 This image courtesy of Joseph DeLeo
In Turkish, shish means skewer and kebob means grilled meat. This simple recipe introduces an addictive condiment for grilled meat: onions sliced very thinly and tossed with a generous amount of sumac. The sumac pickles the onion a few minutes after tossing. Sumac onions are the perfect pickle for all grilled meats. Try to find fresh pita bread delivered daily to the market. It makes a difference. Good middle eastern markets receive bread daily. Look for the thinnest pita possible. If the bread seems a bit thick or a little stale, brush it with water and olive oil and soften it on the grill before cooking the shish kebob. In Turkey, flatbreads serve a purpose. In the United States, we are served bread before our meal as though it's a snack while we wait for our food to arrive. In many Arabic countries, the bread is often skipped throughout the mezze course and is served where it is most important: with the meat course. The bread is placed on a platter or plate and topped with the meat after it is cooked, so that as the meat rests, the juices soak into the bread. Flatbreads like lavash or very thin pitas (or pides) dry out very quickly if left in the open air for a short amount of time. You can reconstitute dried-out flatbreads by spraying them with the fine mist from a pump water bottle or by rubbing them with wet hands. I like to use sirloin for kebobs. A less expensive alternative is top round, but it is not quite as tender as sirloin. The parsley butter is a classic combination of garlic and parsley. Serve these kebobs with a spicy and smoky french Syrah from Cote Rotie or Hermitage in the Rhone Valley.
NotesI prefer to use natural lump charcoal when grilling. Natural charcoal is made from pure wood, with no chemical additives. I also like to throw some wet chips of apple, alder, or cherry wood on the grill to impart a sweet, pleasantly woody flavor: Gas grills are very convenient, but food cooked over a gas flame lacks the depth of flavor imparted from a wood fire. I also think that building and tending a natural charcoal fire is a wonderful, ritual that enhances a meal.

Charcoal briquettes are convenient and available everywhere, but they are made from sawdust and scrap wood with starch binders and chemical additives, which produce oxygen for a longer and more even burn. The additives don't burn off and therefore can affect the flavor of your food.

Lighter fluid is also convenient. It usually burns off by the time you are ready to cook, so that the chemicals do not affect the food's flavor. However, I believe that I can taste the chemicals on food cooked over a fire started with lighter fluid. I prefer to start my grill fires in a metal chimney with a wooden handle. Good grilling are available at most hardware and kitchen stores.

Here's a recipe for a great grill fire. I like to build a two-level fire, with one side hotter than the other, which creates a "high" and a "low" flame. Remember that natural charcoal bums hotter and faster than briquettes. A good brand of natural lump charcoal is Nature's Own, which is available at most natural food and specialty kitchen stores. Or you can order your charcoal online at www.peopleswoods.com.

Grilling Supplies

Grill (my favorite is the Weber Kettle, 22.5 inch)

Natural lump charcoal

Chimney

Newspaper

Lighter

Good grill brush

Long tongs

1. Make sure the vents on your grill are open. Air feed a fire.

2. Fill the bottom of your grill with charcoal (at least 4 inches on one side and 2 inches high on the other) and set the chimney in the middle of the coals. The fire needs to be big enough in surface area to accommodate the amount of food you're cooking.

3. Fill the bottom of the chimney with one sheet of loosely crumpled newspaper and fill the top with charcoal.

4. Light the newspaper and allow it to burn. When the coals have caught fire, release, them from the chimney and allow them to light the rest of the coals.

5. When the fire is at maximum heat, usually after about 20 minutes, the coals will be gray. Place the iron grill on top of the coals.

6. Once the grill gets hot, after about 5 minutes, brush it well the grill brush to clean it.

7. Let the grill heat up for about 5 minutes more then begin cooking. If you're grilling food with lots marinade or fat, it may begin to smoke. Using your tongs, Place food on the "low" side of the grill and move it over to the "high" side when the smoke settles down.

* Turkish Alternative

An alternative to grilling directly over flame is to grill turkish style: cooking skewered meat, above the grill iron. To do this, roll up two, long pieces of foil, about 12 inches long depending on the width of your grill and bow many skewers you're grilling. Place the foil rolls on the grill, parallel to each other, about an inch shorter apart than the skewer. Balance the ends of the skewers on the top of the foil rolls, and spin the skewers as the meat cooks above the fire.
Serves6
OccasionCasual Dinner Party, Family Get-together
Dietary Considerationegg-free, peanut free, soy free, tree nut free
Equipmentfood processor, grill
Taste and Texturebuttery, meaty, savory, spiced
Ingredients
3 pounds sirloin strip, fat trimmed and cut into twenty-four 1- to 1½-inch cubes
¼ cup extra virgin olive oil
1 tablespoon dried Greek oregano, preferably wild, crushed with your fingers into powder
1 large bunch flat-leaf parsley, stems removed, washed and dried
1½ sticks unsalted butter, softened to room temperature
2 tablespoons smashed and chopped garlic (6 to 8 cloves)
2 teaspoons salt plus more to taste
1 teaspoon black pepper plus more to taste
2 small red onions, peeled, halved, and cut into very thin long strips
1 heaping tablespoon sumac
Three 10-inch rounds pita bread, cut in half
6 metal skewers
Instructions
In a mixing bowl, toss the beef with the olive oil and oregano, and let it stand while you prepare a charcoal grill (see Notes) and make the butter.

Finely chop the parsley. Place it in a food processor, fitted with a metal blade, and process the parsley, butter, garlic, 2 teaspoons of the salt, and 1 teaspoon of the pepper until smooth. Place this mixture in a small bowl and set aside.

Place the onions in a small mixing bowl and toss with sumac. Let this rest for a few minutes, to give the sumac a chance to pickle the onion somewhat.

Using metal skewers, thread 4 cubes of marinated beef onto each and season with salt and pepper.

Over medium-high heat, grill each side of the beef for about 4 minutes until brown.

Remove the beef from the heat and place each skewer on a half of pita bread so that the pita bread catches the juice while it's resting.

Immediately, dollop each skewer with 1 tablespoon of the soft parsley butter so that it soaks into the meat and bread. You can freeze the extra butter or wrap it tightly in plastic wrap and store it in the refrigerator.

Remove the skewers and top the pita and beef with a generous amount of sumac onions.
2006 Ana Sortun
YOUR RECENTLY VIEWED RECIPES
Free recipes, giveaways, exclusive partner offers, and more straight to your inbox!