Bay-Scented Chestnut Soup
Updated February 23, 2016
Cookbook
Published by William Morrow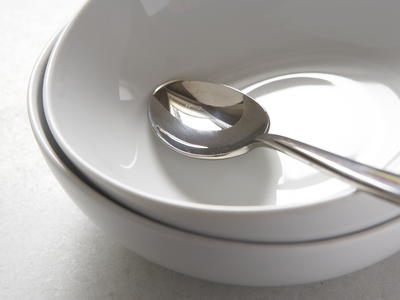 This image courtesy of Joseph DeLeo
Because American chestnut trees were wiped out in the early part of the twentieth century by blight, most fresh chestnuts sold in this country were, until recently, from Europe. Now American growers are planting a hybrid variety called Colossal with great success. They come to the market much fresher and more carefully handled than the European ones (unlike other nuts, chestnuts must be refrigerated after harvesting) and they have a smoother pellicle (the brown covering of the nut under the shell) that makes them easier to peel. You can also buy these American chestnuts dried and already shelled; they're just as good in this soup and require a whole lot less work. I've flavored this soup with fresh bay laurel leaves, which when combined with a tiny bit of vanilla bean add a heavenly sweet spice flavor. Although I don't usually recommend you do this, you can substitute 2 California bay leaves for the 10 bay laurels. The flavor will be different, but still pleasant. Be sure you have positive identification of your bay leaves before you make this soup. Bay laurel is mild in flavor, but California bay leaves are so strong your soup would be inedible if you added 10 of them. This soup is perfect for the winter holidays, especially served with a small glass of dry sherry.
Herbal Improvisations: For chestnut-sage soup, cook the onion and celery with ¼ cup coarsely chopped sage. Decrease the bay to 2 bay laurel leaves, fresh or dried, adding them both with the broth. Add 1 tablespoon chopped sage with the chestnuts when cooking the garnish.
8 Servings
OccasionCasual Dinner Party, Cooking for a date
Recipe Coursehot appetizer
Dietary Considerationegg-free, gluten-free, peanut free
Taste and Textureherby, nutty, savory, smoky
Ingredients
1 pound fresh chestnuts in their shells, or ½ pound dried chestnuts, or two 7-ounce jars vacuum-packed peeled chestnuts
1 medium onion, chopped
1½ cups sliced celery
2 tablespoons unsalted butter
4 cups chicken broth
¾ cup fresh apple cider
1 small bunch thyme, tied with cotton string
10 fresh bay laurel leaves, lightly crushed, or 2 fresh California bay leaves
A quarter of a vanilla bean, split
½ cup heavy cream
¼ cup dry or medium-dry sherry
Kosher salt and freshly ground black pepper
2 ounces bacon, cut into small dice
½ unpeeled apple, cored and cut into small dice
Instructions
For fresh chestnuts, bring a saucepan of water to a boil. Cut the chestnuts in half from top to bottom with a sharp chef's knife. Put them in the freezer for 10 minutes, then drop them into the boiling water, boil 8 minutes, and drain. While they are still hot, pop out the meat by squeezing on each half. The darker brown pellicle surrounding the meat should come off as well. Work quickly, because the cooler they are, the harder they are to shell.

If using dried chestnuts, bring a large pot of water to a boil. Add the chestnuts, simmer for 10 minutes, then remove from the heat and let them soak for 1 hour. Vacuum-packed chestnuts can be added straight from the jar.

Cook the onion and celery in the butter in a large saucepan over medium heat, stirring often, until they soften, about 5 minutes. Stir in all but ½ cup of the chestnuts, then the broth, cider, thyme, 5 of the bay laurel leaves (or 1 California bay), and vanilla bean. Cover and simmer the soup over very low heat for 45 minutes. Remove and discard the thyme, bay leaves, and vanilla.

Puree the soup in 2 batches in a blender (not a food processor) until very smooth. Don't fill the blender more than half full, and begin blending in quick pulses to prevent the hot soup from splashing out. Pour the soup back into the saucepan, stir in the cream and sherry, and reheat it to the simmering point. Taste and add as much salt and pepper as you think it needs (if you used canned salted broth you may need very little). Stir in the remaining 5 bay laurel leaves (or 1 California bay) and steep for at least 5 minutes to perfume the soup.

Cook the bacon in a medium skillet until it renders out most of its fat but is not quite crisp. Tip the skillet to drain off the excess fat. Dice the reserved ½ cup chestnuts, add them to the bacon, and cook for another minute. Add the apple and cook until warmed through.

Remove and discard the bay leaves. Ladle the soup into warm bowls and put a spoonful of the apple-chestnut garnish in the center of each.
2005 Jerry Traunfeld
YOUR RECENTLY VIEWED RECIPES