Basil Ice Cream
Cookbook
Published by Bulfinch Press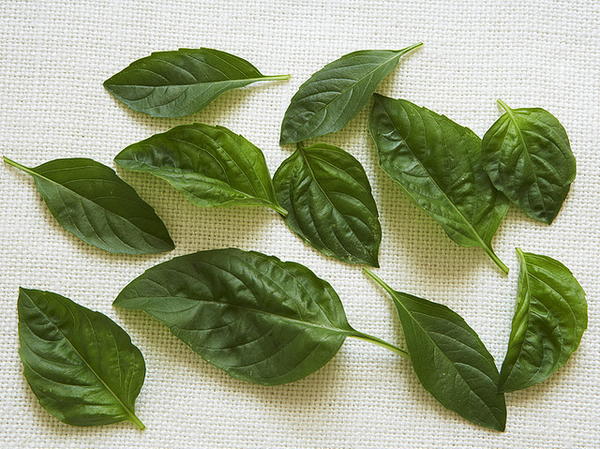 This image courtesy of Joseph DeLeo
In late summer, when basil is abundant at the market, try making this ice cream. Basil is refreshing and soothing like mint, but it has a sweeter, rounder flavor that mellows in your mouth as you savor it. For scientific reasons that I mentioned in the ice cream guidelines section, ice cream has the interesting quality of disguising its temperature on the tongue. If we place an ice cube in our mouths, it feels unpalatably cold; ice cream, out of the same freezer, is a pure pleasure for our senses. One of the holy grails of an ice cream flavor, to my mind, is finding those tastes that subtly enhance this characteristic. Basil may be the perfect match, lending its combination of invigorating mint-like qualities and fullbodied warmth of flavor.
NotesStorage: This ice cream is best if you serve it 4 to 6 hours after churning, but will keep in the freezer for up to 1 week.

Ice Cream and Sorbet Guidelines:

Ice cream is one of the most versatile desserts. Laden with milk and cream, an ice cream base (a lightly thickened custard) can be infused with almost any flavor-from fresh herbs, dried spices, fragrant fruits, and chocolates of all types to numerous alcohols. Ice cream is usually frozen at temperatures well below freezing (32°F), and, yet, at these freezing temperatures, it is soft and scoopable, and its seemingly creamy and cool impression is magically pleasurable to our tongue. It can easily be combined with a crunchy candy or nuts or it can be served with a delightful crisp cookie or wafer. Ice cream satisfies the palate by appealing to our senses of temperature and texture and taste simultaneously. It is truly one of the world's favorite desserts. And mine as well.

Some Science Involved in Ice Cream Making:

That said, producing smooth and creamy ice cream at home is a challenge. Every dessert cookbook provides recipes for this or that flavor, but what's important about ice cream is understanding how the machinery and the ingredients interact to make ice cream.

Commercial ice cream makers produce their uniformly smooth and creamy ice cream by taking advantage of a number of factors that are, for the most part, inaccessible to the home cook. Machinery is the first of them, and, for reasons I'll explore below, expensive industrial-strength ice cream machines simply do the job better than smaller units designed for home use. Commercial ice cream makers also use a wide range of thickening, gelling, and stabilizing agents that are essentially outside the purview of the home cook.

In order to extract the most decadent and delicious ice creams from our home machines we must consider the role played by the ingredients we do use. Ice cream is a complicated emulsion of water, sugar, protein, fat, and flavoring, with the special and unique properties of water acting as the principal player in the transmutation of custard into a frozen confection.

Controlling ice crystal formation, in terms of both their size and their number, is the essential secret to making good ice cream and sorbet as well. When pure water freezes, at 0°C (32°F), it forms hexagonal-shaped crystals with sharp edges that, if left alone, can grow quite large, becoming visible to the eye and clearly discernible on the tongue. In ice cream, neither large crystals nor sharp edges are desirable, so finding ways to make the crystals small enough so that we don't taste or identify the individual crystals is the name of the game.

Before considering how the ingredients affect ice crystal formation, let's look briefly at how ice cream machines function and their effect on ice crystal formation. These machines simultaneously chill and whip custards by rapid spinning with a sharp blade. In general, it's the combination of a strong cooling mechanism, the speed and sharpness of the whipping blade (called a dasher), and the amount of air pumped into the mixture that produces the smaller ice crystals that give the final product a smoother texture. Commercial ice cream machines have these key features, while even the best home machines, for the most part, have weak cooling mechanisms, blunt plastic dashers, and minimal air circulation-never mind active air pumping.

What role do the ingredients play, then, in home ice cream making? Adding soluble ingredients-such as sugar or salt-lowers the freezing point of water. That's why we put salt on ice in the winter: the salt lowers the freezing point of water, so that the ice melts because its freezing point has dropped below the air temperature. The same is true of sugar, the ingredient in ice cream base that actively lowers its freezing point. The lower the freezing point of a fluid, the more ice crystals will form (in a given volume) during freezing, and the smaller each individual crystal will become. That is, sugar directly results in smaller ice crystals and improved texture. Liquid sugars (or inverted sugars)-honey, corn syrup and its derivatives, caramel, maple syrup, malt syrup, and molasses, for example lower the freezing point of a fluid even more powerfully. The addition of liquid sugars helps ice cream bases and sorbet bases obtain a potentially smoother texture than they would otherwise with the addition of just ordinary table sugar (sucrose).

Another ingredient that affects the freezing process is protein, which is present in ice cream base from dairy and eggs. Proteins are large molecules that literally get in the way of ice crystal formations; under certain conditions, proteins absorb water, forming a gel, thereby preventing existing ice crystals from growing larger. Every ice cream recipe in this chapter begins with a crème anglaise-a custard made of eggs, milk, cream, and sugar. The proteins in the mixture are heated and agitated (denatured), which allows them to form a gel. Water locked into a gel cannot migrate over to existing ice crystals-thereby increasing their size-or form its own ice crystals at normal freezer temperatures. Interestingly, most ice cream is hard enough to scoop at-15°F, and at that temperature only 70 percent of the water in the ice cream is present in the form of ice crystals.

Skim milk powder, a primary ingredient in good quality commercial ice cream and one that I also recommend depending on the recipe, is a convenient means of adding protein as well as sugar and other molecules to the ice cream base; these molecules get in the way of ice crystal formation, controlling crystal size and improving the final texture of the frozen dessert. Egg whites are often added to sorbet mixtures. Proteins in egg whites function similarly to proteins in skim milk powder, improving the texture of sorbet.

Some commercial ice creams and sorbets utilize stabilizers, both natural and otherwise, to improve texture. An important class of stabilizers is the polysaccharides (including pectin, carrageenan, guar gum, locust bean gum, and cellulose gum). These molecules function similarly to proteins in one respect: they absorb water when gelled, thereby preventing water from migrating through the mixture to freeze onto existing ice crystals. Different stabilizers absorb more or less water, but almost all are effective in very small amounts.

The last ingredient that affects ice crystal formation is fat. Fat in ice cream comes from dairy and eggs. Just like proteins, fats are large molecules that physically block ice crystals from growing in size. In addition, whipped fat is an excellent vehicle for holding air pockets, and air lightens texture by increasing volume. Too much cream, however, can produce a grainy ice cream-the dasher (whipping blade) causes the high concentration of fat molecules to coalesce (as tiny flecks of hard butterfat), abandoning the air pockets they surround and breaking the creamy emulsion usually created in ice cream.

Dairy fat also contains natural emulsifiers, which are molecules that bind to both fat and water, improving texture and stability in ice cream base. In the ice cream recipes that follow, the principal emulsifier is lecithin, which is naturally found in egg yolks. In commercial ice creams, artificial emulsifiers such as those mysterious mono-and diglycerides one always sees in ingredient lists are added to increase the number of water molecules that are bound to fat rather than remaining on their own.

The Ins and Outs of Ice Cream Machines:

I've had less than wonderful experiences with expensive "gourmet" home ice cream machines that have their own cooling mechanisms. They're heavy, they take up an enormous amount of cabinet and counter space, and, frankly, they're just not powerful enough to freeze ice cream. Some of these machines take 30 minutes to churn the ice cream, and that's just too long; ideally, your ice cream should churn and set, at home, in 10 to 15 minutes at most.

I used one of these fancy machines at my first job as a pastry chef at the much-beloved Firefly in San Francisco, a small restaurant with a tiny, hot kitchen. For months, my ice cream was grainy, and I was convinced that I did not know how to make crème anglaise properly. I read every book available, trying to perfect my ice cream base. But no matter what I tried, the ice cream never came out smooth and creamy. Looking back, I realize that the problem wasn't my crème anglaise, it was the ice cream maker, which, in the hot environment of Firefly's kitchen, took about 40 minutes to churn each batch of ice cream. There's just no hope that ice cream will come out well under such circumstances. But at the time, it drove me nuts.

There is a machine that I think works remarkably well, and, ironically enough, it's one of the cheapest machines on the market, and it also takes the least amount of space in your kitchen. A number of manufacturers, including Cuisinart and Krups, make this unit, which consists of a canister, which is filled with a refrigerant (like Freon) that is prechilled for 24 hours in your freezer, and a small motor and blade upon which the canister sits. The blade is nothing special, and the speed of the motor is not terrific either (though that's not surprising given the cost of the machine), but the canister, if chilled for a full day before use, is far more powerful than any self-contained chilling mechanism and will churn ice cream in no more than 15 minutes. It's one of my favorite home tools, and I highly recommend that if you're going to make ice cream, you acquire one. It will set you back less than eighty dollars, and it's worth every penny.

Always remember that the time a machine takes to churn ice cream is a critical factor in the final consistency and texture of the ice cream. Make sure the ice cream base is first chilled on ice and then refrigerated for at least 2 hours and ideally 12 hours or overnight. Room-temperature or warm ice cream base increases freezing time. Also, ice cream base, as it sits in the refrigerator, increases in viscosity and this slightly thickened base has more body, yielding a creamier ice cream. A second recommendation for adhering to shorter freezing times is to make sure you are using the correct amount of base called for in your particular machine's instructions. If you can, churn a little less ice cream base than the machine recommends and the ice cream will freeze faster, resulting in creamier ice cream.

All of the ice cream recipes in this book can be prepared ahead of time and chilled for a maximum of 2 days before churning. Churn the ice cream the day you plan to serve it. The natural emulsifiers present in these ice cream recipes are most effective in the first 24 hours after the ice cream is churned, lending the ice cream a luscious creamy texture. As churned ice cream sits in the freezer, ice crystals begin to grow and increase in size, attracting water molecules and pulling the ice cream out of emulsion. Unlike commercial ice creams, those made at home are not meant to sit in the freezer for long periods of time. At Chanterelle, even with my industrial-strength machine, I churn my ice cream every day. While the ice creams you make following my recipes can be stored for several days, they are best eaten within the first 24 hours.


OccasionCasual Dinner Party, Formal Dinner Party
Dietary Considerationgluten-free, halal, kosher, peanut free, soy free, tree nut free, vegetarian
Taste and Texturecreamy, herby, sweet
Type of Dishdessert, ice cream
Ingredients
1½ ounces basil leaves or 30 leaves
2 cups heavy cream
2 cups whole milk
1 cup sugar
8 egg yolks
1 whole egg
Pinch of salt
¼ cup skim milk powder
Fine-mesh strainer
Ice bath
Ice cream machine
See "Ice Cream and Sorbet Guidelines" in the Notes section, below
Instructions
Wash and dry the basil leaves. In a heavybottomed saucepan, heat the cream, milk, and ½ cup of the sugar. Once the cream begins to boil, add the basil leaves, remove the pot from the heat, and set it aside for 10 minutes.

Make the crème anglaise (see the Note on cooking a stirred custard and testing for doneness):

In a mixing bowl, combine the egg yolks, egg, salt, skim milk powder, and remaining sugar and briskly whisk for 1 minute. Using a ladle, slowly whisk some of the hot cream into the egg yolk mixture to warm it. Gradually pour the warmed egg mixture into the hot cream, whisking constantly as you pour. Cook the custard over medium heat, stirring continuously and scraping the bottom with a rubber spatula or wooden spoon until the custard thickens enough to coat the back of the spoon. Strain the custard through a fine-mesh strainer and remove the basil leaves.

Chill the crème anglaise and churn it:

Place the basil crème anglaise (ice cream base) in the ice bath to cool completely. Transfer to the refrigerator and chill a minimum of 2 hours and up to 2 days before churning it in an ice cream machine. Churn the crème anglaise in an ice cream maker according to the machine manufacturer's instructions. The ice cream is finished once it has increased in volume and it holds the lines from the stirring mechanism and mounds like softly whipped cream. Transfer to the freezer for 4 hours to attain a scoopable consistency.

This ice cream is delicious all by itself. It also goes beautifully with the Meyer Lemon Curd Tart or the Fresh Apricot and Almond Tart.

Use 3 fig tree leaves, cut into small pieces, instead of the basil.

Use 1 ounce of black mint leaves instead of the basil.

Use 1 ounce of fresh lemon verbena leaves or 3 lemon verbena tea bags instead of the basil.

Cardamom, Cinnamon, Star Anise, Black Pepper Ice Creams:

Infuse the cream with any of these spices instead of the basil: 15 crushed cardamom pods; 2 cinnamon sticks and 1 teaspoon ground cinnamon; 8 large star anise; 2 tablespoons crushed peppercorns and 1 teaspoon finely ground black pepper.

Plum or Apricot Pit (Bitter Almond) Ice Cream:

Smash 15 apricot or plum pits with a mallet and remove the almond-like nut from inside. Chop up the almond-like nuts and steep them in the hot milk as you would the basil. (See the Note on plum pits and other stone fruit pits.)
2006 Kate Zuckerman
YOUR RECENTLY VIEWED RECIPES
Free recipes, giveaways, exclusive partner offers, and more straight to your inbox!