Basic Cooked Beans, Peas, and Lentils
Cookbook
Published by Workman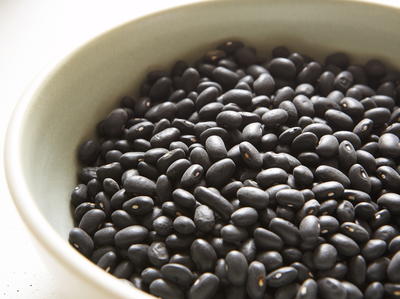 This image courtesy of Joseph DeLeo
As a rule of thumb, dried beans triple in volume when cooked; 8 ounces (1 cup) dried beans will yield 3 cups cooked. This is a basic method for cooking legumes in water with classic aromatics–onion, garlic, bay leaf, and thyme–which enhance the beans' own natural flavor. Use it to cook any dried beans that you will dress or further flavor once cooked; for example, for salads, quick sautés, braises, or gratins. The only variable will be cooking time. Letting the beans cool in their cooking liquid saturates them with flavor, not fat. Then, when you add a little fat to the drained beans, it will gloss the outside of the beans, and its flavor will remain apparent. This recipe can be doubled.
General Cooking Times for Dried Beans, Peas, and Legumes

Dried beans come from shell beans, which are usually harvested in early fall. The beans are slipped from their pods and then laid out to dry. Beans that are within a few months of being dried cook quickly (some in as little as 30 minutes) and will have more tender skins, a creamier texture, and a discernably fresher flavor than older ones. As beans age, they lose moisture and their skins get tougher and more brittle. If they are more than two years old, they may take as long as 4 hours to cook, their tough skins never truly softening or bursting before they are tender. If your beans are not tender by the end of the cooking time given in the recipe, just keep cooking them (at a simmer and covered), adding more water or broth as necessary to keep them covered. Unless they are extremely old, they will eventually become tender.

The average cooking times for most beans range from 45 minutes to 1½ hours, depending on their age and size. After 30 minutes' cooking, bite into a few beans to gauge how quickly they are cooking.

Creamy Versus Firm Beans.

Whether or not you cover the beans while cooking will determine their texture. Beans cooked uncovered will have a firmer texture and keep their shape better, which is necessary for bean salads. Beans cooked with a lid on but slightly ajar will break down a bit and be creamier, good for thick bean soups and stews, as well as purees.

Smoky Southern-Style Beans.

Southern cooks traditionally cook beans with fatty chunks of smoked pork to give them a delicious smoky, spicy flavor. However, lean smoky pork products such as country ham and tasso, the highly spiced Cajun ham from Louisiana, work just as well as fattier cuts. Add about 1/3 pound country ham or tasso, with the fat trimmed off, cut into several chunks, to the beans along with the other seasonings. Periodically skim off any foam that rises to the surface. The ham will probably have lost most of its flavor by the time the beans are cooked and should be discarded.

Ham hocks, a staple in Southern cooking, work wonderfully when cooking larger amounts of beans. (Use 1 hock per 1 to 2 pounds beans, to serve 8 to 16 people.) They have so much flavor they make a powerful cooking liquid, and the bones and collagen impart an unctuous texture to the beans. One ham hock will throw off only about 1 tablespoon of fat during the cooking. If you keep the level of the cooking liquid at least 1½ inches above the beans, and at a simmer, you can skim the fat off as it rises to the surface. If you do happen to leave the fat in, it will add at most 1/3 teaspoon, or about 11 calories, per serving (for 8 servings). Once it cools, you can pull the meat off the hock, trim off the fat, shred the meat, and mix it into the beans.



Dietary Considerationegg-free, gluten-free, halal, kosher, lactose-free, peanut free, soy free, tree nut free, vegan, vegetarian
Five Ingredients or LessYes
Taste and Texturesavory, umami
Ingredients
8 ounces (1 cup) dried beans, peas, or lentils
1 small onion or 1 large shallot, peeled and stuck with 2 whole cloves
2 garlic cloves, unpeeled, lightly smashed
½ serrano or jalapeño seeded and deribbed, or 1/8 teaspoon red pepper flakes
3 to 4 fresh thyme sprigs or ½ teaspoon dried
1 imported bay leaf ½ teaspoon kosher salt, or to taste
Instructions
Place the beans in a large saucepan, add enough cool water to cover by 1½ inches, and soak overnight at room temperature. (Peas and lentils do not need to be soaked.)

Discard any beans that are broken, off-colored, or floating. (Or, if using peas or lentils, pick over, rinse, and place in a large scaucepan with water to cover by 1½ inches.) Add the onion, garlic, chile, thyme, and bay leaf. Bring to a boil over moderate heat, then reduce the heat to low. Cook the beans (or peas or lentils) at a bare simmer until they are just tender but not mushy--they should hold their shape; do not allow them to boil, or they will become tough. (See below for General Cooking Times for Dried Beans, Peas, and Legumes.) If necessary, replenish the water, so that it stays 1 inch above the top of the beans. Halfway through the cooking time, stir in the salt.

Remove from the heat. If you are using them right away, drain the beans, reserving the cooking liquid. Remove and discard the onion, garlic, chile, thyme sprigs, and bay leaf. If you are not using them immediately, allow the beans to cool in their cooking liquid before draining. (Keep the cooking liquid to reheat the beans or to use in many of the recipes that follow.) You can keep beans, covered and refrigerated, for up to 3 days.
2001 Sally Schneider
YOUR RECENTLY VIEWED RECIPES