Banana-Coconut Bread for Pam
Cookbook
Published by Workman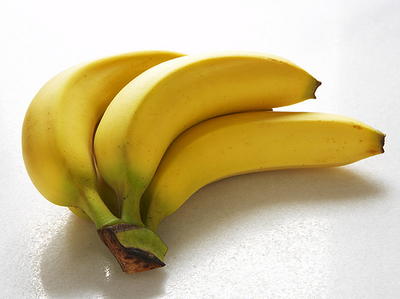 This image courtesy of Joseph DeLeo
Our friend Pam had just delivered her baby, Ethan. She'd had an anxious pregnancy and was tired, as well as relieved to be home safely with him. We wanted to take her a bread that would keep well and be a bit of a treat. So starting with a method used by Hoppin' John for his Persimmon Bread in his classic cookbook Lowcountry Cooking, we used pureed banana as the liquid for the dough, then added shredded coconut for texture and interest. It turned out to be a distinctive, easy, moist loaf with a crunch of sugar on top, the best banana bread we know. And more important, Pam loved it too.
To freeze bananas, choose overipe fruit (freezing is an excellent way of storing overripe bananas). Peel them and cut into large chunks. Freeze overnight on a tray or in a container. Once frozen, transfer to a plastic bag, seal, and freeze for up to 1 month. Place in a bowl to defrost at room temperature, and save the juices.

Sugars
When we call for sugar in this book, we mean granulated sugar, refined from sugarcane or sugar beets. During sugar refining, the dark thick molasses that is a by-product is set aside. Light and dark brown sugars are made by mixing some of the molasses, or crude sugar, back into refined sugar. The darker the brown sugar, the deeper the taste. Brown sugar hardens easily, so store it in a well-sealed container (we add a prune to keep the sugar from hardening). Confectioners' sugar, also known as powdered sugar (or icing sugar in Canada and Britain), is often used as decoration to dust the top of cakes or cookies. It is also the main ingredient in frosting. It is finely ground sugar with a little cornstarch added to prevent clumping. Before using, it should be sifted to eliminate lumps.
Demerara sugar is a granular dark brown sugar that smells and tastes of molasses and has a distinctive, sometimes overwhelming, flavor. Maple sugar is cooked-down maple syrup. It is a rich golden brown and is sold in small blocks in specialty stores and at regional markets in the regions where it is produced: much of New England, as well as Quebec and Ontario. Palm sugar, known in India as jaggery, is made by boiling the sap of the sugar palm. It is sold in disk-shaped or square blocks, and it may be pale tan or dark brown. The darker the color, the deeper and more smoky the taste. To use, slice off thin pieces, then finely chop.
Pearl sugar has large round granules that keep their shape when baked. It is used as a decorative topping for baked goods, especially in northern Europe. Pale yellow shiny chunks of rock sugar are sold in cardboard boxes in Chinese and other Asian grocery stores. Rock sugar is made from processed sugarcane.
Vanilla sugar is granulated sugar that has been perfumed with vanilla. It's handy to have a supply of vanilla sugar for flavoring cakes and cookies without darkening them with extract. To make vanilla sugar, place a vanilla bean in a jar of sugar and seal well. After a week, the sugar will be perfumed with the aroma of vanilla. When you use the sugar, top up the jar; the vanilla bean will stay strong for months.
Makes2 large loaves, lightly sprinkled with brown sugar

Recipe Coursedessert, snack
Dietary Considerationegg-free, halal, kosher, peanut free, soy free, vegetarian
Mealbrunch, dinner, snack, tea
Taste and Texturebuttery, fruity, spiced, sweet
Type of Dishbread, dessert, quickbreads
Ingredients
About 8 medium-to-large frozen bananas, defrosted (see Notes), or very overripe bananas
4 cups all purpose flour
1½ teaspoons baking soda
1 teaspoon freshly grated nutmeg
½ pound (2 sticks) unsalted butter, softened
2 cups sugar
¼ teaspoon white or rice vinegar
3 tablespoons dark rum
1 cup dried shredded unsweetened coconut
About 2 tablespoons demerara (see Notes) or dark brown sugar for topping
Instructions
Preheat the oven to 350°F. Butter two 9-by-5-inch bread pans.

Puree the bananas (with their juice if using defrosted ones) in a blender. Measure out 3 cups and set aside.

In a medium bowl, combine the flour, baking soda, and nutmeg; set aside.

Using a mixer, beat the butter and sugar until light and fluffy. Add the vinegar and rum and beat briefly. Add the banana puree and the flour mixture alternately, about 1 cup at a time, beginning with the bananas, beating until smooth after each addition. Stir in the coconut.

Spoon the batter into the buttered pans. Sprinkle the top of each loaf with about 1 tablespoon demerara or brown sugar. Bake for 50 to 60 minutes, until golden. Let cool for 20 minutes, then turn out of the pans onto a wire rack to cool completely and firm up.
2003 Jeffrey Alford and Naomi Dugid
YOUR RECENTLY VIEWED RECIPES