Banana Chocolate Chip Pound Cake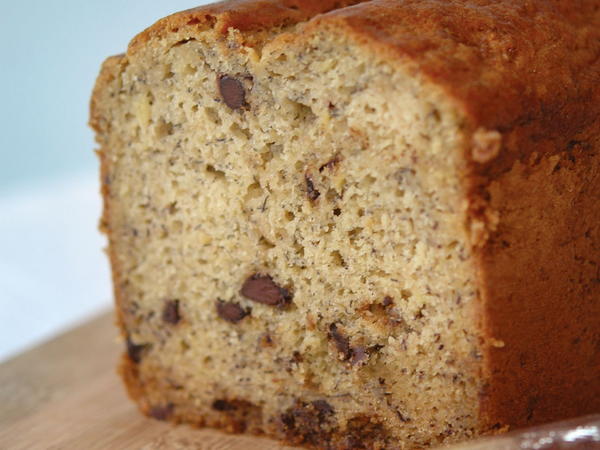 This image courtesy of Anna Blessing and Stephen Hamilton
Are you heading home for the holidays and trying to mentally prepare yourself for the headache with the amiable name "traveling"? Unfortunately, I can't help you with the security lines and the carry-on guidelines. My dad instilled in me early on that Levys do not check their baggage, so imagine my shock the first time around as I watched $50 worth of hair products and sunblock get confiscated! Clearly, you shouldn't take my advice about packing your luggage, but you can take my advice about what to cook up for the airplane ride. Bake a loaf of banana-chocolate chip pound cake the night before, and it will still be perfectly fresh and tasty for the plane ride. You may want to bake an extra loaf for the flight attendants (they're the right people to have on your side). The key to delicious and moist banana cake is making sure you have extremely ripe bananas-nice and dirty-brown. Trying to make tasty banana bread with pale green bananas is like trying to make your eyelashes look voluptuous with old, clumpy mascara! Ideally, buy the bananas ahead of time and store them in a brown bag in a drawer; do not refrigerate them. If you're making this for a plane ride, presumably you have booked your tickets in advance and can plan ahead with the bananas! Helpful hint: If you are in a pinch, I suggest begging a produce department employee to find some ripe bananas in the back (they usually pull the bananas that look too ripe and throw them away).
NotesShelf Life and Storage Instructions: 2 to 3 days stored at room temperature. Best if enjoyed within 1 to 2 days.

I prefer bittersweet chocolate with a 60-70% cocoa content (64% is my favorite), but if you like milk chocolate, feel free to use it instead!

Mascarpone cheese can be found in the cheese section of most supermarkets and specialty food stores, including Whole Foods.

Folding is the process of incorporating two different ingredients by gently folding part of the mixture into the other part. Start in the center of the mixture and lift the batter up and over itself, turning the bowl as you continue.

Helpful hint: You can puree your bananas in a food processor if you have one, or you can "mash" them by hand using a spatula or wooden spoon.
1 (9 × 5 × 3) loaf
Preparation Time - Text30 minutes

Recipe Coursedessert, snack
Dietary Considerationhalal, kosher, peanut free, soy free, tree nut free, vegetarian
Taste and Texturebuttery, chocolatey, sweet
Type of Dishcake, dessert, pound cake
Ingredients
½ cup mini bittersweet chocolate chips
1 1/8 cups all purpose flour
1½ teaspoons baking powder
1½ teaspoons baking soda
1/8 teaspoon salt
¼ cup sour cream
¼ cup mascarpone cheese, warmed to room temperature
6 tablespoons (¾ stick) unsalted butter, warmed to room temperature
¼ teaspoon cinnamon; ground
½ cup granulated sugar
1 large whole egg, warmed to room temperature
1 large (½ cup) banana, ripe, pureed
Sifter
Four mixing bowls
Stand mixer fitted with the paddle attachment or hand mixer
Instructions
Prep: Take your eggs and butter out of the refrigerator a couple of hours before you plan to prepare the batter.

Preheat the oven to 350°F.

Prepare a 9 × 5 × 3 loaf pan by coating it entirely with softened butter using a pastry brush. Then, pour a handful of flour into the pan. Invert the pan over the sink, shaking out any excess flour.

Mix a handful of flour into the chocolate chips to coat them (this ensures that the chocolate chips don't all end up at the bottom of the loaf).

Sift together the flour, baking powder, baking soda, and salt.

Combine the sour cream and mascarpone cheese in a bowl with a spatula.

In the bowl of a stand mixer fitted with the paddle attachment, or in a mixing bowl (if using a hand mixer), cream together the butter and cinnamon on high speed (you can always do it by hand, too). Gradually add in the sugar, about 1 tablespoon at a time. Continue to beat until the mixture is light in color and fluffy in texture.

Stop the mixer and scrape down the sides of the bowl. Then, turn the mixer back on to medium speed and add in the egg. (The mixer should remain running on medium speed through step 8.)

Add 1/3 of the flour mixture to the mixing bowl, beating until just incorporated.

Add 1/3 of the sour cream-mascarpone mixture to the mixing bowl until it is just barely incorporated.

Alternate adding in the rest of the flour and sour cream-mascarpone mixtures to the mixing bowl.

Turn off the mixer. Using a spatula, fold in (see Notes) the pureed bananas and the miniature chocolate chips. Do not overmix.

. Bake at 350°F for 50 minutes, or until a toothpick inserted into the center of the pound cake comes out clean.
2009 Sarah Levy
YOUR RECENTLY VIEWED RECIPES
Free recipes, giveaways, exclusive partner offers, and more straight to your inbox!