Baked Beans with Black Duck Breasts and Linguiça Sausages
Cookbook
Published by Welcome Books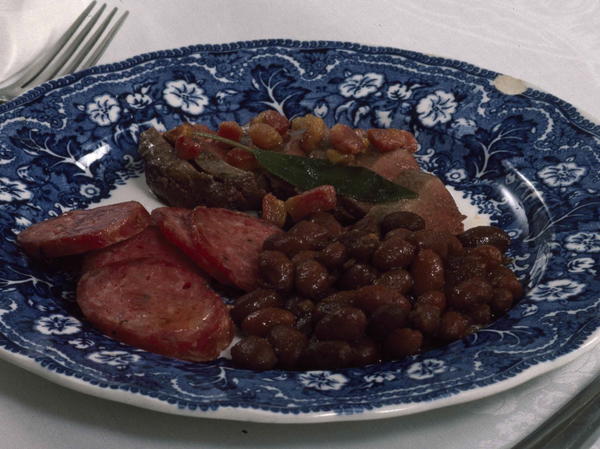 This image courtesy of Tom Eckerle
NotesIf the salt pork is very salty, boil it first. Otherwise it will burn and brown before the fat is rendered.
Serves6 to 8
Cooking Methodbaking, sauteeing
Taste and Texturerich, savory
Ingredients
2 pounds dried navy, cranberry, or Yellow Eye (favored in Maine) beans
1 pound salt pork with skin attached (See Notes)
2 tablespoons dry mustard
1 teaspoon cider vinegar
¼ cup molasses
1 teaspoon salt (optional)
1 medium-large onion, studded with 12 cloves
3 linguiça sausages
3/4 pound lean pork fat, cut into ¼-inch cubes
6 boneless, skinless Black Duck breasts (also called Canadian Redleg), or substitute Mallard or Muscovy duck breasts
Salt and freshly milled pepper
½ pound unsalted butter, clarified 
Small bunch fresh sage
Bean pot or deep casserole
Kettle or stockpot
Cast-iron skillet or ovenproof large heavy sauté pan
Instructions
Thoroughly wash and pick over the beans. Place in a pot with plenty of water and set aside to soak over night.

Drain the beans, place them in a large kettle and add cold water to cover. Bring to a boil over high heat. Reduce the heat to low and simmer for 30 minutes. Drain the beans and reserve the cooking liquid.

Preheat the oven to 200° F. Cut away the salt pork skin in one sheet. Line the bean pot with the skin, skin side up. In a small bowl, combine the dry mustard, vinegar, rum, molasses, and salt. Mix into the beans and fill the bean pot one-third full with the bean mixture. Add the clove-studded onion and top with more beans and the salt pork. Cover with the remaining beans.

Cover the bean pot and bake for 10 to 11 hours, checking the liquid from time to time. If the beans begin to dry out, add some of the reserved bean liquid to moisten them. Uncover the beans for the last hour of cooking and bury the linguiça sausages in the beans. About 30 minutes before serving, render the cubed pork fat over moderately low heat until golden, draining off the fat as it cooks. Drain the cubes on paper towels and set aside in a warm place.

Lightly season the duck breasts with salt and pepper. Warm the butter in a large ovenproof skillet set over moderately high heat. Add some of the sage leaves and sauté the breasts for 2 minutes on each side, until rare. Place the skillet in the oven for 3 to 4 minutes while you assemble the dish.

Remove the onion from the beans and discard it. Remove the sausage from the beans. Peel off the skin and slice ¼-inch thick. Arrange the sliced sausages in the center of a warm platter. Surround the sausages with the duck breasts and sprinkle the remaining sage leaves over the duck. Sprinkle with the reserved rendered pork fat. Serve with the beans.
Christopher Idone
YOUR RECENTLY VIEWED RECIPES
Free recipes, giveaways, exclusive partner offers, and more straight to your inbox!