Assorted Mayonnaises
Cookbook
Published by Stewart, Tabori & Chang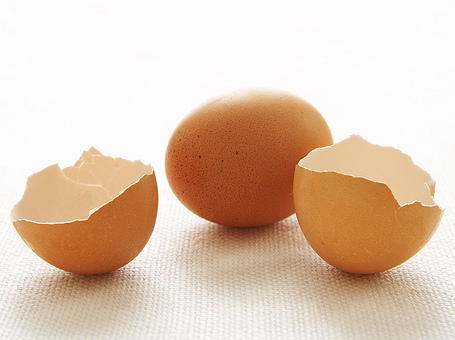 This image courtesy of Joseph DeLeo
Most of us associate mayonnaise with the stuff in a jar or, if we're fortunate, an aioli sauce with plenty of garlic. It turns out, however, that mayonnaise is an infinitely versatile sauce that can be flavored with just about anything. The base for all these variations, however, is almost always the same, so once you make a batch of basic unflavored mayonnaise, you can divide it into however many parts you like and flavor the parts. Basic mayonnaise can be made by hand—by slowly working oil into egg yolks—in a blender, or in a food processor. There are a couple of things to look out for. Mayonnaise gets thicker as you add more oil, but if it gets too thick it can separate. So whatever recipe you're making, add ½ teaspoon of water to the mayonnaise if it starts to get too thick. Don't add too much water—it takes very little to thin the mayonnaise and keep it from breaking. When you start making the mayonnaise, the oil has to added slowly—in a very thin stream for a food processor or blender and 1 teaspoon at a time when working by hand. Mayonnaise such as aioli, made with extra virgin olive oil, should not be beaten hard by hand, in a blender, or in a food processor—for some reason the violent action makes it bitter. It's better to make a basic mayonnaise with vegetable oil and then gently stir in extra virgin olive oil by hand.  While mayonnaise is rich—the mayonnaise itself is almost pure oil—it is considerably lighter when combined with vegetables, which convert it into something between a mayonnaise and a salsa.
Notes"Fixing" Bottled Mayonnaise

Most people recognize that bottled mayonnaise has none of the same flavor as homemade. Homemade mayonnaise can be a little tricky though, especially at the beginning when it's necessary to add the oil very slowly to keep the mixture from breaking. A good trick is to work a little extra virgin olive oil into bottled mayonnaise—thinning the mayonnaise if it gets too stiff with a little water, lemon juice, or vinegar.



Total Timeunder 15 minutes
Ingredients
2 egg yolks
2 teaspoons fresh lemon juice
2 teaspoons Dijon mustard
½ teaspoon salt, plus more to taste
1 cup "pure" olive oil or vegetable oil
½ cup extra virgin olive oil
2 to 4 tablespoons water
Instructions
Combine the egg yolks, lemon juice, mustard, and salt in a food processor or blender. Turn the machine on and start by adding the oil very slowly, in a thin stream, and then gradually increasing the amount you add. When you've added all the "pure" oil and the mayonnaise starts to thicken, transfer the mayonnaise to a bowl and gently work in the extra virgin olive oil using a wooden spoon. As the mayonnaise gets very thick, add water as needed. Add more salt if needed.

RED BELL PEPPER MAYONNAISE

4 red bell peppers, charred, peeled, stemmed, seeded, and chopped fine

Combine the peppers with the Basic Mayonnaise and season to taste with salt and pepper.

1 pound mushrooms of any variety

Clean the mushrooms and chop by hand or in a food processor until fairly fine. Be careful if you're using a food processor to avoid making a purée; about 10 short pulses should do it. Put the mushrooms in a small pot over medium heat. When they've released their water, after 1 to 2 minutes, turn the heat up to high and boil, stirring now and then, until the mixture is dry, about 10 minutes. Let cool and fold into the Basic Mayonnaise. Season to taste with salt and pepper.

Regular mushroom mayonnaise is great but dried morels give this mayonnaise a distinctive smoky flavor.

1 ounce dried morels, soaked in ½ cup water for 30 minutes and moved around every 5 minutes

Drain the morels into a bowl, squeezing any additional liquid out of them; note that you can save the liquid for sauces, but don't add it to the mayonnaise unless you want it to be thin. Chop the morels fine by hand or in a food processor—avoid over processing and turning them into a paste—and stir them into the Basic Mayonnaise. Season to taste with salt and pepper.

CAPER AND HERB MAYONNAISE

1 tablespoon Dijon mustard

4 tablespoons capers, drained and chopped coarse leaves from 15 sprigs fresh tarragon, chopped

1 small bunch parsley, large stems removed, leaves and small stems chopped

Combine the Basic Mayonnaise with the other ingredients. Season with salt and pepper to taste.
2007 James Peterson
YOUR RECENTLY VIEWED RECIPES
Free recipes, giveaways, exclusive partner offers, and more straight to your inbox!