Asparagus with Hazelnut Sauce and Croutons
Cookbook
Published by Stewart, Tabori & Chang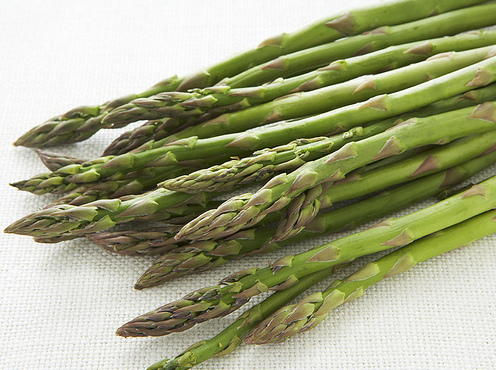 This image courtesy of Joseph DeLeo
Big fat stalks of asparagus mean spring to me, along with dandelion salad, rhubarb, fresh trout, and strawberries. I like my asparagus thick and with very tight heads, like the buds of a rose. It is a mistake to believe that small asparagus are young specimens that are more tender than the fat stalks. When I used to pick asparagus from Claude's garden, some emerged from the ground fat and some thin. So thin asparagus spears are not necessarily young; fat ones with tight heads are the most tender. As a young kid and cook in France, I was accustomed to white asparagus, especially the Argenteuil type. Green asparagus, the most common variety in the United States, was unusual and special to us. White asparagus has a slightly bitter taste and requires longer cooking; the stalks don't take well to being undercooked because they are fibrous. Purple or violet asparagus, less common and more expensive, often comes from Italy. I remember that my brother and I would hunt for wild asparagus next to the Rhône River in Neyron. The stalks were thin and narrow, and they had a really strong taste. We cut them down about ten to twelve inches from the top. Not long ago, I found some of these in Madison, Connecticut, around Hammonasset Beach. Wild asparagus has a wonderful taste– more pungent and more assertive than cultivated varieties. Even when I worked in Paris as a young man, asparagus was considered a rich, expensive dish, and was costly, especially the first crop of the spring season. It was cooked to order, and nine out of ten times served with a hollandaise, or sometimes with sauce choron, which is a hollandaise with tomato and tarragon added, or a beurre moussant, which is melted butter emulsified with a little water or lemon juice. When I was a kid, my favorite asparagus dish was in the Belgian style, with cooked asparagus wrapped in slices of ham–wonderful boiled jambon de Paris, with a mild cure—and these were coated with a white sauce, topped with Gruyàre, and gratinéed under a hot broiler. It is a wonderful dish, but if you want a purer taste of asparagus, you will probably want to prepare it in a simpler way. I prefer to buy my asparagus loose at the market, so I can select fat spears with tight heads. To store them, I take a wet paper towel and stand them up in a container with a little water in it. This keeps them nice and fresh in the refrigerator for a couple of days, if need be. There are ten to twelve large spears per pound. The lower third of the spears are fibrous, so I peel that section, so the entire spear is edible and tender. Putting the spears flat on the table, peel them with a good vegetable peeler, rotating the spears as you go. All in all, I like the fat green asparagus stalks the best and I like the spears cooked so they are a bit firm–not very soft, as I used to have them prepared as a child, and not too crunchy, as they are served in many restaurants. At home, more often than not, we eat asparagus lukewarm with a vinaigrette made with a great deal of Dijon-style mustard, olive oil, and, sometimes, a little walnut oil. As a kid, I would spoon some of that strong vinaigrette onto my plate, and then incline the plate toward me, propping it underneath with a knife, so the vinaigrette collected in a pool. Then, holding the asparagus spears in my fingers, I would dip them one by one into the sauce and eat them. In this more elegant recipe, I prepare a noisette (hazelnut) sauce, which is a hollandaise made with butter that has been cooked until it turns a light brown color. Whatever moisture is in the butter starts foaming during the cooking. Then the moisture evaporates, the butter clarifies, and eventually turns a hazelnut color, becoming a beurre noisette, so called because the butter tastes like roasted hazelnuts when cooked this way. The top of the asparagus is sprinkled with coarse toasted bread crumbs. These crunchy crumbs are great for topping salads and soups. Sometimes I sprinkle a little herbes de Provence or curry on the cubes before putting them into the oven.
4 servings
Total Timeunder 30 minutes
OccasionCasual Dinner Party, Cooking for a date, Formal Dinner Party
Dietary Considerationhalal, kosher, peanut free, soy free, tree nut free, vegetarian
Taste and Texturebuttery, crisp, crunchy, nutty, tart
Ingredients
1 country bread or baguette (about 8 ounces)
Hazelnut or peanut oil
Coarsely ground black pepper
16 to 20 large asparagus spears (about 1 ½ pounds)
1 to 1 ½ cups water
Salt
1 stick (8 tablespoons) best quality sweet butter
2 egg yolks
1 tablespoon water
2 teaspoons lemon juice
A dash of salt
A little cayenne pepper
Instructions
To make the croutons: Preheat the oven to 400°F. Cut the country bread or baguette into 1-inch cubes, and toss them with a little hazelnut or peanut oil to moisten the bread a little. Sprinkle on a little salt, spread the bread cubes onto a cookie sheet, and brown them for 10 to 12 minutes. Cool until lukewarm, and then put into a plastic bag and pound with a skillet or meat pounder to break the cubes into large, uneven crumbs. Sprinkle with coarsely ground black pepper. Set aside.

Using a vegetable peeler, peel the bottom third of the asparagus. Do not peel too high on the stalks; they are not fibrous at this level, and you will remove the beautiful green color from the upper portion of the spears.

To cook the asparagus: Pour 1 to 1½ cups of water into a large skillet, preferably stainless steel or nonstick. Add a dash of salt, and when the water boils, add the asparagus in one or two layers. Bring back to the boil, and cover, so the spears come back to a boil very quickly. After 4 or 5 minutes, the asparagus should be tender but still firm. Remove the lid, drain off the water, and spread the spears on a tray to cool if not serving right away, so they cool quickly and retain their beautiful color. I don't like to rinse asparagus under cold water, as it waters down the taste. Yet, if I cook a large quantity, I cool it down briefly under cold water and drain while still warm, so any remaining moisture evaporates.

It is easy and quick to make the hazelnut sauce in a blender. Melt the butter in a saucepan. As it cooks, it will foam a little, and then the foam will disappear and the solids will stick a little to the bottom of the pan, creating a darkish coating. The butter will turn a rich, very light brown color with a pleasant hazelnut taste. Let the butter cool for 5 minutes before using because if it is too hot it may curdle the yolks. Put the egg yolks and 1 tablespoon of water in a blender, turn the blender on, and with it running, pour the butter into it in a slow, steady stream. Add the lemon juice, a dash of salt, and a little cayenne pepper, and process for a few more seconds. The mixture should be smooth, creamy, and have a delicious flavor.

To serve: reheat the asparagus (if necessary) in a microwave oven for about a minute, or place in a conventional oven for a few minutes at 180°F to warm it. Sprinkle the reserved croutons on top, and serve right away with the hazelnut sauce. It is said that the sulfur in asparagus gives a metallic taste to wine, especially red wine, but it takes more than that to prevent me from enjoying wine with this dish.
2007 Jacques Pepin
YOUR RECENTLY VIEWED RECIPES
Free recipes, giveaways, exclusive partner offers, and more straight to your inbox!