Cookbook
Published by William Morrow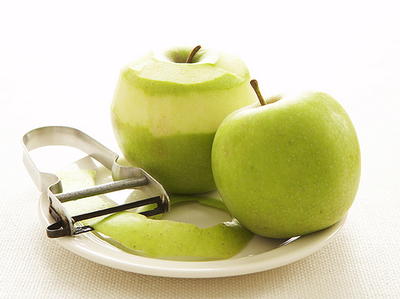 This image courtesy of Joseph DeLeo
Warm and comforting, apple crisp is ideal in the fall when apples are in their peak season. Unless you told your guests, they would have no idea this a raw dessert. It's a perfect recipe to bring to a holiday party (or any party), as it can be easily prepared in a baking pan or pie dish instead of individual ramekins, and can also be made ahead of time. When this dessert is on the menu in the restaurant, we keep the crisps warming in the dehydrator during service. In the summer time, peaches or plums stand in perfectly for apples. Whatever fruit you use, it 's extra delicious with a scoop of vanilla ice cream on top!
Vanilla Agave:

To get the seeds from the vanilla pod, simply make a slit with a sharp knife down one side of the bean and open it. Using a knife or small spoon, scrape the inside of the pod, collecting all the tiny black seeds. The seeds are all you need for most recipes; however, don't throw the pod away. Vanilla is expensive. You can use the pods to flavor agave nectar or other sweet liquids. The seeds of one vanilla bean are equivalent to about 3 to 4 teaspoons of extract.

To make the vanilla agave, slice 4 vanilla pods lengthwise and place them in 2 cups of agave. Refrigerate and let sit overnight. Or, Just add a few drops of quality vanilla extract to agave for the recipes that call for vanilla agave This is also a good way to use up the pods after you've scraped out the seeds-they will still infuse a lot of flavor. We use vanilla agave as a finisher in some dessert recipes. It's nice to have around; there aren't many things you want to sweeten that couldn't benefit from a little extra vanilla flavor. You can also make star anise agave by adding about 1 teaspoon of ground star anise per cup of agave, or infusing the agave with a few whole star anise in the same way as with the vanilla. Star anise is my favorite dessert spice.

Almond Flour:
At the restaurant, we make our own almond flour or order a special Italian almond flour, ground very fine from raw organic almonds. If you're not using the flour right away, store it in the refrigerator for up to a week, or longer in the freezer. You can use the flour to make tart shells, cakes, cookies, or bars.
To make almond flour, soak almonds in water for at least 6 hours or overnight. Drain and rinse well and dehydrate for about 12 hours, or until dry and crunchy Pulse the almonds in a food processor until finely ground; be careful not to overprocess-you don't want almond butter! Pass the almonds through a mesh strainer to separate the coarser pieces, leaving behind fine almond flour. At the restaurant we use a tamis, a screen framed by a big, round metal ring, so it sits flat on your work surface, but any fine strainer will do.
The coarse crumbs left behind are great sprinkled on ice creams or puddings and also make an outstanding salad topping, especially when tossed in a tiny bit of almond oil and fine salt. I keep them in the refrigerator this way and sometimes eat them plain with a spoon.
Serves8 to 10
Cooking Methoddehydrating
OccasionCasual Dinner Party
Dietary Considerationegg-free, gluten-free, halal, healthy, high fiber, kosher, lactose-free, low carb, low cholesterol, low saturated fat, peanut free, raw, soy free, vegan, vegetarian
Equipmentdehydrator, food processor
Taste and Texturecrisp, fruity, nutty, sweet
Ingredients
8 Granny Smith apples, peeled, cored, and diced
8 sweet apples (such as McIntosh or Honey Crisp), peeled, cored, and diced
½ cup vanilla agave (see Notes), or more to taste
4 cups pecans, preferably soaked and dehydrated
3 cups almond flour (see Notes)
1 teaspoon sea salt
½ cup maple syrup
½ cup vanilla agave (see Notes)
Food processor
Dehydrator
Instructions
In a large bowl, toss the apples with the vanilla agave.

Spread the apples in a shallow pan and place it in the dehydrator. Dehydrate for about 4 hours, stirring once or twice.

Place half of the dehydrated apples in a food processor and blend. If needed, add a tablespoon or two of water to achieve an applesaucelike consistency.

In a bowl, mix together the blended apples and the apple pieces.

Place the pecans in a food processor and blend just until they begin to release their oils. Transfer to a bowl and mix in the remaining ingredients.

Divide the crisp between 2 teflex-lined dehydrator trays and spread it out. Dehydrate for 24 hours or more, until dried and crispy.

Divide the filling among individual ramekins, or place it in a shallow baking dish. Top the filling with the crisp.

Before serving, place the apple crisp in the dehydrator for about 1 to 2 hours to warm it through.

Just before serving, drizzle with the vanilla agave.
2009 77 Lucky Cows, Inc.
YOUR RECENTLY VIEWED RECIPES