Cookbook
Published by Running Press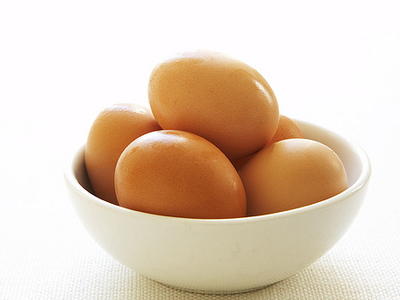 This image courtesy of Joseph DeLeo
Making an omelet requires deftness, speed, plenty of practice, and a pan 9 inches in diameter, with rounded sides and a heavy bottom that will hold the heat. If you use a cast-aluminum or cast, iron pan, it must be used only for omelets and never washed on the inside, merely wiped out with a damp cloth, or the omelet will stick. Should it stick, rub the pan with a sprinkling of coarse (kosher) salt and a paper towel to remove the residue, then rub with a drop or two of oil and a clean paper towel. However, after many years of omelet-making I have come to the conclusion that the best pan to use is one with a Teflon lining, to which the egg will never stick, no matter how often you wash the pan or use it for other things. (See Notes.)
My favorite omelet pan is made of Teflon-lined cast aluminum, 9 inches in diameter, sloping to a heavy bottom 6 inches across. Only the bottom is heavy; the pan itself is light enough to lift and shake with one hand. In this pan it is possible to make an omelet without using any kind of tool—all you need to do is shake the pan vigorously and the eggs will move around and start to set of their own accord.

Don't worry if you can't make a perfect omelet at first. This is a technique you acquire by constant practice and by learning to judge the point when the omelet has set just enough and can be rolled and tipped out. The whole process takes only about 30 seconds, so you can make as many omelets as you need in practically no time. Always make your omelets individually. It's much more difficult, and not very satisfactory, to make a huge one in a big pan and then divide it up.
Makes1 individual omelet

Total Timeunder 15 minutes
OccasionCooking for a date
Dietary Considerationgluten-free, low carb, peanut free, soy free, tree nut free, vegetarian
Five Ingredients or LessYes
Mealbreakfast, brunch, lunch
Taste and Texturebuttery, creamy, savory
Ingredients
2 very large or 3 small eggs
Scant ½ teaspoon salt
Pinch of pepper Or dash of Tabasco
1 tablespoon water
1 tablespoon butter
One-third cup of any of the following, freshly cooked or reheated, may be added to the omelet just before it is rolled, and any excess spooned over the top before serving:
Sliced mushrooms, sautéed or creamed
Creamed chicken or chicken hash
Creamed dried beef
Buttered green vegetables, such as pieces of asparagus, broccoli, spinach
Creamed fish
Crumbled crisp bacon
Thin strips of ham, frizzled in butter
Ripe tomatoes, peeled, seeded, chopped, and sautéed
Sautéed lamb kidneys, cut into small pieces
Croutons of bread, fried in olive oil, with or without garlic
Sautéed sliced onions
Grated cheese (2 to 3 tablespoons) should be added just before the eggs are set, so it can melt.
Herbs, such as finely chopped chives, parsley, and chervil for an omelet fines herbes, or finely chopped watercress should be mixed into the eggs before they are cooked. (Use 1 tablespoon fresh herbs.)
Instructions
Break the eggs into a bowl, add the seasonings and water, and beat lightly with a fork—don't overbeat, only enough to blend yolks and whites.

Heat your omelet pan over high heat until a drop of water bounces when flicked onto the surface. Add the butter and swirl it around until it melts and foams, which will happen almost immediately if the pan is the right heat.

If it browns or burns, the pan is too hot. Remove it from the heat, wipe out the butter with paper towels, swing the pan in the air a little to cool it, and start again.

When the butter stops foaming, quickly pour in the eggs and, shaking the pan with one hand so it moves over the heat, stir the eggs lightly with a fork as if you were making scrambled eggs. (If you use a Teflon-coated pan, use a wooden spatula, not any sort of metal tool, or just shake the pan which will move the eggs around enough.) When the eggs have set to the degree you like (I like mine French style, still creamy in the center, but you may prefer yours a little more set), start rolling the omelet with the fork or spatula, at the end of the pan near the handle. If you are adding a filling, do this before starting to roll. Tip the pan forward so the omelet rolls onto itself.

Now reverse your grip on the handle, holding it from underneath, hold a plate close to the pan with your other hand, and start to invert the pan, which will tip the omelet onto the plate in a neat roll, with the edges underneath and a lovely smooth surface on top. Serve immediately. Omelets can't wait.

If you are making more than one omelet, wipe the pan with paper towels after each one, reheat, and add fresh butter to the pan.
1977 James Beard
YOUR RECENTLY VIEWED RECIPES