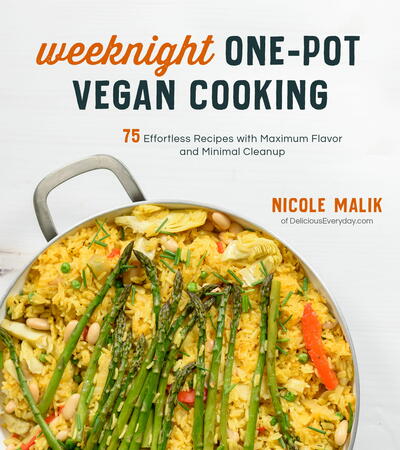 Weeknight One-Pot Vegan Cooking: 75 Effortless Recipes with Maximum Flavor and Minimal Cleanup
Plant-based cooking just got easier than ever! Cleanup is a snap when your dinner cooks in one dish, and getting more plants into your diet is downright delicious with approachable yet inspired recipes like:

Crispy Black Bean Chilaquiles
Hoisin-Glazed Stuffed Acorn Squash
Jamaican Jerk Veggie & Pineapple Lettuce Wraps
Louisiana-Style Cajun Jambalaya
Creamy Pumpkin Risotto with Fried Sage
Chickpea Burgers with Sweet Mustard Sauce
Street Corn Pita Pockets
Mango Tango Pesto Pasta
Balsamic Strawberry & Avocado Quinoa

You won't find any salads or tofu here! Perfect for vegans, vegetarians and veggie-loving omnivores alike, this book centers on whole food recipes for more nutritious, satisfying meals without sacrificing flavor. Even on your busiest weeknights, these simple yet delicious meals will please the whole family with time to spare.
Sample recipes from Weeknight One-Pot Vegan Cooking: 75 Effortless Recipes with Maximum Flavor and Minimal Cleanup





(1 Votes)
Other cookbooks by the authors