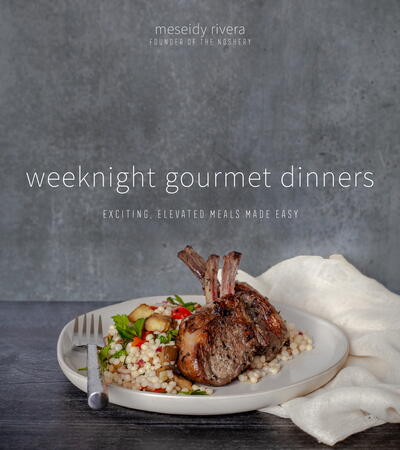 Weeknight Gourmet Dinners: Exciting, Elevated Meals Made Easy
Take your weeknight dinners from same-old to spectacular with The Noshery founder Meseidy Rivera's stand-out recipes. Thanks to her ingenious quick-prep options, easy sheet pan meals and set-it-and-forget-it Instant Pot and slow cooker dinners, readers can make gourmet level-meals without spending all night in the kitchen.

Try mouthwatering mains like All the Herbs Roast Chicken Breast, which preps in just minutes. Take your weeknight pasta dish up a notch with Creamy Brown Butter Tortellini and Goat Cheese Stuffed Shells with Honey and Chorizo. You can even plan ahead for your especially busy nights by making ultimate hands-off dishes like Slow Cooker Tamarind Sticky Ribs overnight or in the morning before you leave for work, so dinner's ready right when you walk in the door!

With Weeknight Gourmet Dinners, even the busiest of chefs will finally be able to come home from work and make a delicious, elegant dinner in minutes.
Sample recipes from Weeknight Gourmet Dinners: Exciting, Elevated Meals Made Easy





(1 Votes)
Other cookbooks by the authors