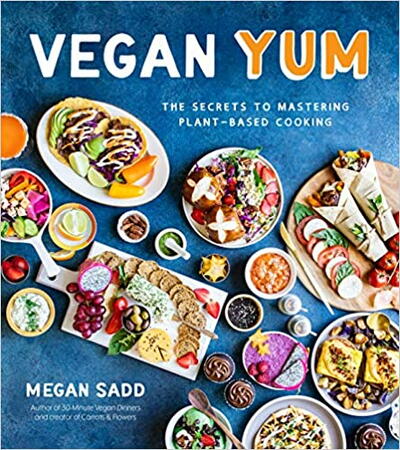 Vegan YUM: The Secrets to Mastering Plant-Based Cooking
Megan Sadd has spent nearly her entire life studying plant-based cuisine to discover the best, most satisfying and delicious ways of cooking vegan food. In this cookbook, she shares all of her secrets. We've got comfort foodshello Crispy Southern Chickpea Sandwiches and Meat Lover's BBQ Pulled Jackfruit with Avocado Slaw. We've got masterpieces, like Spring Linguine with King Oyster Scallops, where every bite will have you saying, "Yuuumm!" And best of all, a whole chapter is dedicated to Megan's signature cheeses and meals stuffed with ooey-gooey cheesy goodness. Just wait till you try her Smoky Gouda Melt, Pesto Mac 'n' Cheese or Roasted Vegetable Romanesco Lasagnayou'll think you've died and gone to foodie heaven.

Besides a huge variety of weeknight-friendly meals and Megan's stunning photography with every recipe, each chapter begins with beautiful illustrated reference pages to help you master plant-based cooking. This is more than a great recipe book. It's an inspiring and instructive ode to flavor that will revolutionize the way you cook.
Sample recipes from Vegan YUM: The Secrets to Mastering Plant-Based Cooking





(1 Votes)
Other cookbooks by the authors