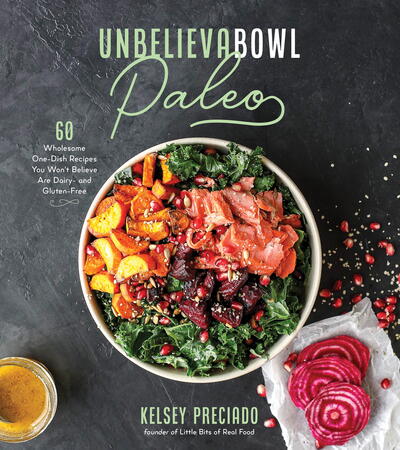 Unbelievabowl Paleo: 60 Wholesome One-Dish Recipes You Won't Believe Are Dairy- and Gluten-Free
Little Bits of Real Food founder Kelsey Preciado makes cooking lasting low-carb and high protein dishes the easiest it's ever been with this collection of satisfying bowl-style meals. Kelsey combines real foods like lean protein, fresh veggies and vibrant produce and ties them together with creative sauces to create clean, complete meals that will keep you full, energized and feeling fantastic.

Start the day off right with filling breakfasts like the Chunky Paleo Granola & Fruit Bowl and Bacon, Dill & Sweet Potato Mash. Get your greens in the delicious way with Creamy Chipotle-Ranch Chicken Salad and Citrus-Marinated Carne Asada, served over cilantro-lime cauliflower rice for an extra serving of vegetables. Indulge while still eating healthy with Kelsey's cleaned-up versions of take-out classics like the Sesame Chicken Lettuce Wrap Bowl and comfort foods like the Perfect Meatloaf and Mashed Potato Bowl, and satisfy your sweet tooth the easy, Paleo-way with desserts like the Microwave Double Chocolate Cake Bowl.

Whether you're a Paleo devotee, a low-carb newbie or simply trying to decrease the dairy and gluten in your diet, this book has everything you're looking for, right in one bowl.
Sample recipes from Unbelievabowl Paleo: 60 Wholesome One-Dish Recipes You Won't Believe Are Dairy- and Gluten-Free





(1 Votes)
Other cookbooks by the authors