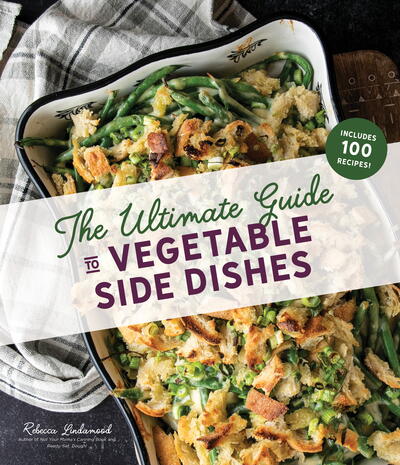 The Ultimate Guide to Vegetable Side Dishes
Turn to this amazing resource meal after meal for tasty veggie sides that will complement any entrée. Rebecca Lindamood, author of Ready, Set, Dough!, created each dish in this book to enhance the flavors and textures of your favorite vegetables for the most mouthwatering results. Soon even your pickiest eaters will be begging for seconds with incredible recipes including:

• The World's Best (and Easiest!) Baked Potatoes
• Buffalo Cauliflower "Wing" Bites
• Pepper Jack Corn Fritters
• Garlicky Baked Asparagus Fries
• Roasted Ginger-Sesame Green Beans
• Quick Kimchi
• Red Wine Oven-Caramelized Onions
• Whipped Feta–Stuffed Cherry Tomatoes
• Spinach, Bacon, and Cheddar Munchy Cakes

Full of fantastic vegetable sides, helpful tips on picking and storing fresh produce, and recipes for next-level infused oils, sauces and dressings, this book has everything you need to make every side dish taste absolutely impeccable.
Sample recipes from The Ultimate Guide to Vegetable Side Dishes





(1 Votes)





(1 Votes)
Other cookbooks by the authors