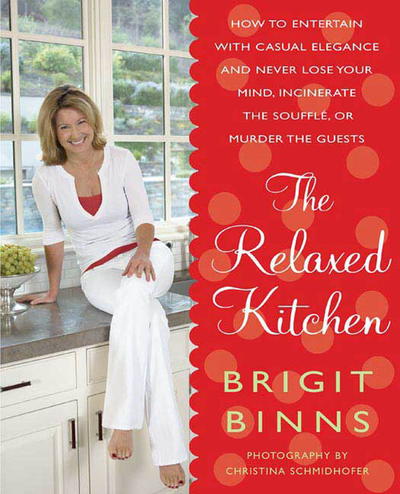 The Relaxed Kitchen
Did you ever have a dinner party disaster? Yes, I'm afraid so. Have you ever bitten off more than you could chew by cooking a complex main course? Well, yes. Did you ever find yourself barbecuing a large pig in your swimsuit and sarong when uninvited porn stars show up for dinner? Uh…now wait just a minute…

If any or all of these things happened to you, fear not. They've all happened to Brigit Binns, the globe-trotting expert on relaxed and elegant entertaining, and she's here to help turn disasters into delight. Brigit's not afraid to admit that she's had plenty of dinner party nightmares because she's learned from her mistakes. In The Relaxed Kitchen, she's here to share some hilarious stories of her failures, her embarrassments and, happily, her triumphs; but, most importantly, she's here to share her hard-won entertaining secrets. From a precariously balanced Napoleon dripping with deep red berry sauce - served in a pristine, just-decorated, all-white London flat - to frying an almost hallucinatory overabundance of duck breasts and potato cakes on a blisteringly hot terrace in Spain, Brigit's learned what works beautifully and what doesn't. From her years as a cookbook author, she's developed a surefire plan that insures casually elegant entertaining. The recipes? Well, they're just what you'd expect from someone in love with bold, Mediterranean flavors:

- smoky shrimp escabeche
- fried almonds with turmeric
- Tuscan style artichokes
- roasted pepper and sausage torta rustica
- butterflied leg of lamb with rosemary
- roast chicken strewn with thyme branches
- chimichurri skirt steak
- grilled lobster with smoked paprika mayo

As Brigit says at the opening of the book, "I fell in love with food before I got my first bra." Only someone like Brigit, who is passionate about cooking, whose insatiable quest to entertain often and well has led to some questionable decisions and amusing results could persevere and arrive at a fail-safe plan for entertaining with elegance and ease. So invite Brigit Binns home, and make your own kitchen a Relaxed Kitchen.
Sample recipes from The Relaxed Kitchen
Other cookbooks by the authors