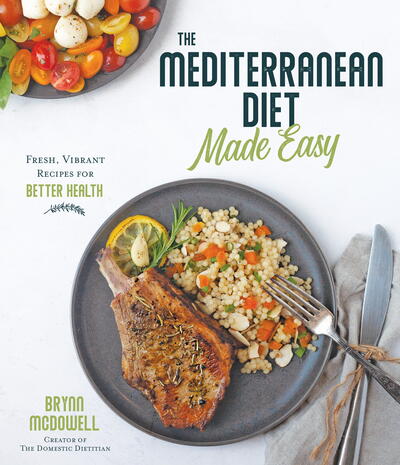 The Mediterranean Diet Made Easy: Fresh, Vibrant Recipes for Better Health
Dive into the Mediterranean diet with registered dietitian Brynn McDowell and discover all the reasons it's been named the best way to eat year after year. Known for its amazing benefits for healthy, lasting weight loss, heart health, diabetes management and more, the Mediterranean diet takes a holistic, lifestyle-focused approach to help you reach your goals and embrace the joy in cooking and eating. Whether you're tired of the ups and downs of fad diets and are in search of a healthier approach to weight loss, or you're looking for a flexible way to feed your family nutritious meals they'll love, this book is packed with the recipes and inspiration you need to create healthy habits that stick.

Brynn breaks down the diet into easy-to-follow guidelineswith an emphasis on whole ingredients and pantry staplesso you can start cooking up new weeknight-friendly favorites without worrying about rules. Simple breakfasts like the Zesty Za'atar Avocado Toast with Poached Egg provide fuel for your day and spice to get you moving. For lunch, loading up on fruits and veggies is a no-brainer with the Sweet and Savory Apricot Couscous Salad. Quick, crowd-pleasing dinners like One-Pan Lemon and Artichoke Baked Chicken and Grilled Lamb with Pistachio-Olive Tapenade ensure that you'll always have time to enjoy a relaxing, nourishing meal with family and friends. Find smart tips on how to cook on a tight schedule, source ingredients on a budget and practice balance. Whatever your personal goals, these recipes will blend seamlessly into your life, making eating for your health a pleasure, not a compromise.
Sample recipes from The Mediterranean Diet Made Easy: Fresh, Vibrant Recipes for Better Health





(1 Votes)





(1 Votes)
Other cookbooks by the authors