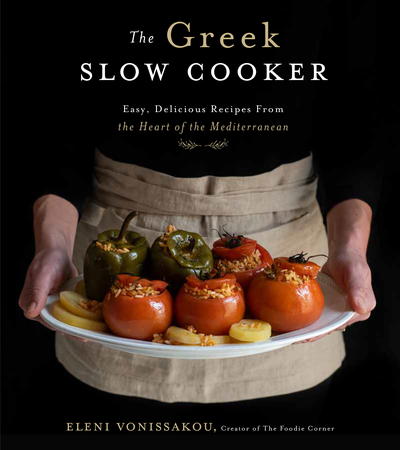 The Greek Slow Cooker
"Eleni has taken incredible Greek dishes and made them more approachable for easy weeknight cooking. I'm so excited that I can make some of my favorites (hello, spinach and feta pie) in the slow cooker!" Jessica Merchant, author of The Pretty Dish and creator of How Sweet Eats

After discovering the wonders of the slow cooker, Athens-based food blogger Eleni Vonissakou of The Foodie Corner, went to work to re-create the classic dishes of her Greek heritage with this easy-to-use appliance. In her first cookbook, THE GREEK SLOW COOKER: Easy, Delicious Recipes from the Heart of the Mediterranean, Eleni puts together 75 authentic and flavor-packed dishes that will show readers of all levels of experience how to easily bring a part of the Mediterranean into their homes with just a slow cooker.

Broken up into eight chapters, No-Fuss, Succulent Poultry, Delicious, Fall-Apart Tender Meat, Easy, Juicy Fish and Seafood, Effortless, Flavorful Veggies, Perfectly Slow Cooked, Rustic Legumes, Wholesome Eggs and Creamy Dairy, Bread. Never Missing From a Greek Table., and "Piece of Cake" Sweets, THE GREEK SLOW COOKER covers all the basics of Greek cuisine, including both dishes familiar to all and dishes commonly found today in Greek homes.

Rich and saucy Lamb Fricassee with Lettuce and Chard and Rabbit and Shallot Stew, Eleni's gourmet spin on classic Greek Fisherman's Soup, a creative, hassle-free take on No-Crust Spinach and Feta "Lazy" Pie, simple and herby Stuffed Vine Leaves with Rice, and citrusy and sweet Fragrant Orange Phyllo Pie will create the feeling of a traditional Greek taverna right in the reader's kitchen.

Other recipes will expand palates and knowledge of Greek home-cooking, such as the silky and citrusy dish straight from Eleni's home, Greek Easter Soup, My Mum's Way, mouthwatering and delicate White Wine-Braised Pork with Peppers and Mushrooms, simple and healthy Greek Spinach and Dill "Risotto", and even classic bread like Sun-Dried Tomato and Oregano Yeast Bread.

From Famous Stuffed Tomatoes and Bell Peppers to Easy, Milky Greek Rice Pudding, Eleni makes incredible, modern and traditional Greek dishes possible for all home kitchens simply using a slow cooker.
Sample recipes from The Greek Slow Cooker
Other cookbooks by the authors