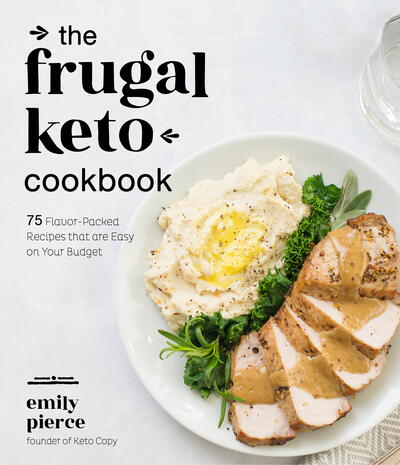 The Frugal Keto Cookbook: 75 Flavor-Packed Recipes that are Easy on Your Budget
Watch your waistlineand your budgetwith flavorful meals like Flank Steak with Chimichurri and Pancetta-Wrapped Chicken Breasts from Emily Pierce, founder of Keto Copy, who has dropped over 100 pounds since she began eating Keto. Whether you're looking to lose weight or transition to a healthier lifestyle, every recipe in this budget-savvy collection keeps costs low while packing in flavor and nutrition. Going Keto doesn't have to mean buying expensive cuts of meat or pricey specialty ingredients. And with smart techniques that minimize waste, Emily helps you make the most of every food item. Save the stems from Sunday night's Superbowl Stuffed Mushroom Caps to use in Monday's Skip-the-Can Cream of Mushroom Soup. Or flip to the "Use It or Lose It" Leftover Land chapter and whip up an Italian Sub-less Salad or a Philly Cheesesteak Skillet.

Best of all, saving money and eating healthier doesn't mean you have to sacrifice the flavors and dishes you love. Yes, you can still have pancakes and pastries for breakfast while eating Keto! Looking for something savory? Reach for Hearty Bacon Mac and Cheese, the super tender Four-Hour Roast or some Pizza Shop Garlic Knots. Indulge in the Saturday Morning Chocolate Donuts or Maple Pecan Shortbread Bars. And with a whole chapter on re-creating your favorite breads and rolls, you'll never have to settle for a sad, bunless hamburger again! Featuring 75 tried-and-true recipes to choose from, there's something for every budget and palatewhether you're an experienced Keto pro or brand new to the diet.
Sample recipes from The Frugal Keto Cookbook: 75 Flavor-Packed Recipes that are Easy on Your Budget





(1 Votes)





(1 Votes)
Other cookbooks by the authors