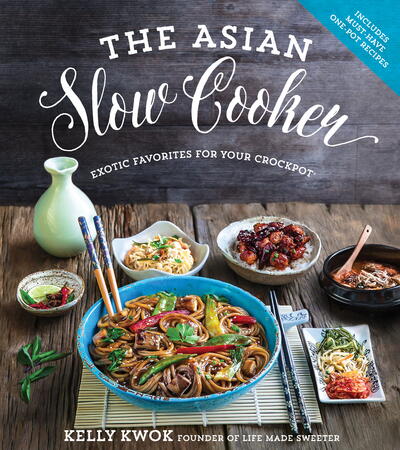 The Asian Slow Cooker: Exotic Favorites for Your Crockpot
Faster, Easier, Tastier and Healthier Than Takeout

Kelly Kwok, founder of Life Made Sweeter, provides great new flavors to try in your slow cooker. These simple and delicious recipes will have your favorite Asian dishes waiting for you right when you get home. With the press of a button, you can make authentic dishes that are healthier and tastier than their restaurant counterparts.

You'll experience a wide variety of flavors; choose spicy, vegetarian, noodles or rice. There are even recipes that have 5 ingredients or less. Extra long day? Kelly's fuss-free one-pot and skillet recipes will have dinner on the table in 30 minutes or lessand with only one pan to wash, cleanup will be a breeze. Whether you're in the mood for General Tso's Chicken, Pad Thai Noodles with Chicken, Beef Chow Fun, Panang Curry, Mapo Tofu or Tom Yum Hot and Sour Soup, you can have fast, delicious meals every day of the week the easy way.
Sample recipes from The Asian Slow Cooker: Exotic Favorites for Your Crockpot





(1 Votes)





(1 Votes)
Other cookbooks by the authors