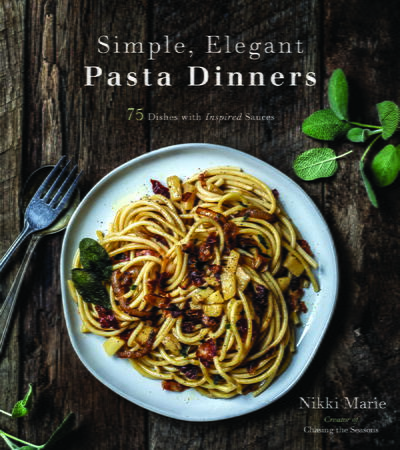 Simple, Elegant Pasta Dinners: 75 Dishes with Inspired Sauces
"These recipes will give you that moment before the first bite when the food looks so good, smells delicious and everything else around you is ok!" —Gabriele Corcos, New York Times bestselling author, James Beard Award recipient and creator and host of Extra Virgin

Growing up in her grandmother's kitchen, Nikkie Marie, creator of popular food blog Chasing the Seasons, was ingrained with a love of rural-Italian cooking which translated to seasonal, locally-sourced produce and lots of pasta. With seemingly endless shapes, sizes, and textures, pasta makes for one of the best vehicles for delicious ingredients and interesting flavor combinations. In her first cookbook, SIMPLE, ELEGANT PASTA DINNERS: 75 Dishes with Inspired Sauces, Marie shares favorite recipes that will show readers how to get creative with new, easy, and flavorful pasta dishes for every season.

"While tried and true pasta recipes, like spaghetti in a long-simmered marinara or traditional lasagna, will always have a permanent place in my recipe repertoire, I wanted to create a cookbook to elevate how we think about and cook with pasta," writes Marie in the introduction.

In the spirit of using locally sourced ingredients, Marie divides her recipes by season, as using produce in its peak season will make dishes that much more flavorful. Take advantage of apple season this fall with sweet Bucatini with Cider, Caramelized Onions and Honeycrisp Apples or the heartier Butternut Squash Pasta Bake with Whole Cranberries and Brie, a complex combination of sweet and rich flavors perfect for a crisp day.

For beautiful yet simple dishes, try cooking your pasta with wine, as in Red Wine Spaghetti with Swiss Chard, or adding nuts, as in Orecchiette with Caramelized Brussels Sprouts and Toasted Hazelnut Oil.

Other recipes with unexpected and delicious ingredients include simple and zesty Creamy Lemon Pappardelle, complex and savory Rigatoni with Dark Cocoa and Red Wine Short Rib Ragu, citrusy and creamy Ravioli with Caramelized Blood Oranges and Escarole, and even a light and cinnamon infused pasta dessert, Aletria (Portuguese Holiday Dessert).

Marie also includes a section on how to make your own pasta and helpful pasta tips, like saving pasta water, when to use certain shapes, and how to rinse pasta depending on what sauce is used.
Sample recipes from Simple, Elegant Pasta Dinners: 75 Dishes with Inspired Sauces





(1 Votes)
Other cookbooks by the authors