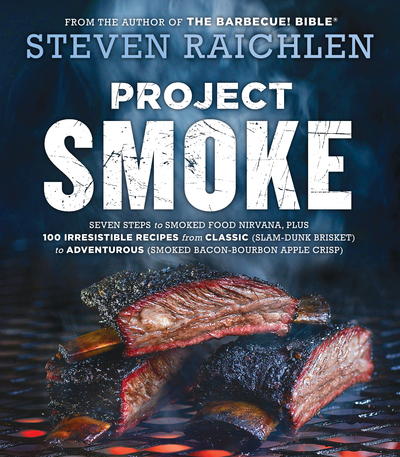 PROJECT SMOKE
Steven Raichlen is America's James Beard Award–winning global grilling and smoking authority, author of a library of New York Times bestsellers—from How to Grill to Planet Barbecue!—and host of acclaimed PBS cooking shows that have shaped the country's fixation with live-fire cooking. Now, Raichlen makes the art of smoking food accessible to the home cook in his eagerly anticipated first book devoted exclusively to the subject—PROJECT SMOKE: Seven Steps to Smoked Food Nirvana, Plus 100 Irresistible Recipes From Classic (Slam-Dunk Brisket) to Adventurous (Smoked Bacon-Bourbon Apple Crisp).

Ambitious and comprehensive, PROJECT SMOKE includes everything you need to know to smoke delectable meats, vegetables, seafood, poultry, beverages, and, yes, desserts at home. It delivers both a complete step-by-step handbook to mastering the techniques—including how to add smoke flavor if you don't own a smoker—and a collection of 100 innovative, hunger-inducing recipes for smoking every food imaginable. Smoke is the soul of barbecue, the alchemy that happens when burning wood infuses its complex flavors into food. PROJECT SMOKE reveals how to make the alchemy happen with Raichlen's seven steps to smoking nirvana:

1. Choose Your Smoker
2. Source Your Fuel
3. Assemble Your Tools
4. Flavor Your Food
5. Select Your Smoking Method
6. Light Your Fire
7. Know When Your Food Is Done

An in-depth rundown introduces you to all the smokers; the essential brines, rubs, marinades, and barbecue sauces; and the complete roster of smoking fuels. And ingenious ways to smoke—from traditional cold-smoking and barbecuing, to smoke-roasting and smoke-braising, to smoking with hay, tea, spices, and of course, a multitude of woods. The recipes are adaptable to the smoker or grill that you have, and some can be made on a stove-top. Appearing throughout are lively boxes, such as The Ten Steps to Brisket Nirvana, Jerky, and How to Infuse Smoke into a Cocktail.

Raichlen has pursued an enduring fascination with live-fire cooking, visiting over six continents and 60 countries to research the flavors and techniques of smoked cuisine across cultures and translate them into replicable recipes for the American home cook. A magnificent and timely achievement, PROJECT SMOKE shares over 100 recipes distilled from Raichlen's extensive travels and research.

Raichlen's enticing, succulent, boldly flavored recipes run the gamut from starters like Smoked Nachos and Smoked Fish Chowder to classics like Home-Smoked Pastrami, Made-from-Scratch Bacon, Honey-Cured Ham Ribs, and Big Bad Beef Ribs, to creative dishes like Tea-Smoked Duck and Smoked Black Cod with Fennel-Coriander Rub. For sides, try Raichlen's Smoked Potato Salad or Smoked Vegetable Cassoulet, all washed down with a Mezcalini and rounded out by Smoked Chocolate Bread Pudding or Smoked Flan.

PROJECT SMOKE is incredibly versatile—it's a great resource for people who are ready to graduate from grilling to smoking, and for competition smoke masters seeking creative ideas and new techniques. It provides a wealth of information for those looking to take the traditional route of low and slow, and also for those who want to infuse a dish with smoke flavor in 10 minutes or less.
Sample recipes from PROJECT SMOKE
Other cookbooks by the authors