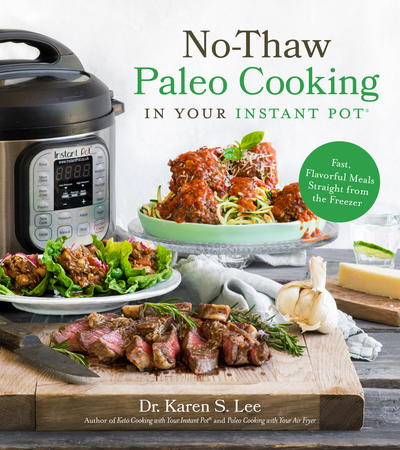 No-Thaw Paleo Cooking in Your Instant Pot: Fast, Flavorful Meals Straight from the Freezer
Dr. Karen S. Lee, author of Keto Cooking with Your Instant Pot® and Paleo Cooking with Your Air Fryer, has created 75 mouthwatering Paleo recipes that easily come together in your Instant Pot® with ingredients straight from the freezer, so busy families can get amazing, healthy meals on the table without wasting time defrosting meat, prepping sides or cleaning up. You'll never find yourself in a pinch at dinnertime again!

This wide array of tasty recipes has endless flavors to discover and countless favorites for your family to love. Enjoy hearty dishes like Thai Green Curry Chicken, Low-Carb Memphis-Style BBQ Ribs, Korean-Style Braised Oxtail, Chipotle Chili con Carne or Weeknight Chicken Piccata. Cook up lighter seafood meals like Sweet Potato Lobster Rolls or Easy Peasy Seafood Paella. There are also tons of warming soups, like Chicken Potpie Soup, and yummy pastas, like Quick Zoodles Bolognese, to indulge in. This exciting collection of delicious new Paleo dinner ideas, combined with the speedy cooking and easy cleanup of the Instant Pot®, will make dinnertime an absolute breeze.
Sample recipes from No-Thaw Paleo Cooking in Your Instant Pot: Fast, Flavorful Meals Straight from the Freezer





(1 Votes)
Other cookbooks by the authors