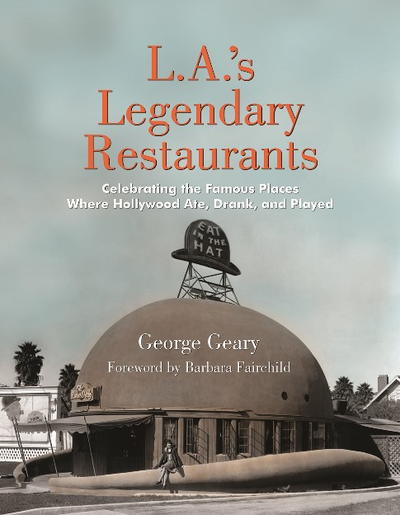 LA's Legendary Restaurants
Generations before Entertainment Tonight and TMZ, fans of the big and little screen longed to capture the Hollywood glamour of their favorite stars, most notably where they liked to eat and play. Hollywood lore has it that Elizabeth Taylor had chili from Chasen's flown to the set of Cleopatra in Rome; Howard Hughes and Errol Flynn were regulars at The Coconut Grove at The Ambassador Hotel, and Shirley Temple enjoyed ice cream at the Pig 'n Whistle.

From Trader Vic's to Perino's, there are stories to tell and food to talk about. Best-selling cookbook author and chef, George Geary, takes readers on a journey to where the rich and famous ate in the golden age of Hollywood in his new book, L.A.'S LEGENDARY RESTAURANTS (Santa Monica Press/October 2016), an illustrated history Los Angeles' landmark eateries. The book features over 100 celebrity favorite recipes, from classic eateries such as the Musso & Frank Grill and The Brown Derby in the 1920s, to the see-and-be-seen crowds at Chasen's, Romanoff's, and Ciro's in the mid-twentieth century, to the dawn of California, chef-inspired restaurants Ma Maison and Spago. L.A.'S LEGENDARY RESTAURANTS is a celebration of where Hollywood royalty ate, drank, and played.

Geary gives us an insider's tour of Hollywood through its restaurants, sprinkling in fun facts and trivia such as Bob Hope's favorite place to enjoy a hot fudge sundae after hosting the Academy Awards, or where a table was sawed off to accommodate a pregnant Lana Turner, to the soda fountain where composer Harold Arlen wrote "Over the Rainbow" for The Wizard of Oz. And what book on L.A.'s restaurants would be complete without tales of ice cream sundaes at C.C. Brown's, cafeteria-style meals at Clifton's Cafeteria, late-night breakfasts at Ben Frank's, or mai tais at Don the Beachcomber?

Some of the restaurants Geary has featured include: Van de Kamp's Holland Dutch Bakery, Formosa Café, Tick Tock Tea Room, Miceli's, Coconut Grove at the Ambassador Hotel, Cyrano, Chez Jay, Hamptons, L'Orangerie, Tam O'Shanter Inn, Bullock's Wilshire Tea Room, Zebra Room at the Town House of Lafayette Park, Don the Beachcomber, Cock 'n Bull, Hollywood Palladium, Scandia, La Scala, Trader Vic's at the Beverly Hilton, Dan Tana's, Le Dome, and many more. L.A.'S LEGENDARY RESTAURANTS provides an interesting history of each restaurant profiled, from their original address and phone number to who designed it and a few of their famous recipes.
Sample recipes from LA's Legendary Restaurants
Other cookbooks by the authors