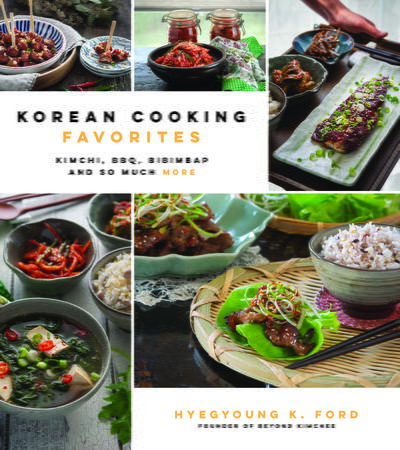 Korean Cooking Favorites: Kimchi, BBQ, Bibimbap, and So Much More
"Hyegyoung has been a great source of authentic Korean recipes for nearly a decade. In this book, she brings you easy Korean recipes from her childhood as well as many delicious modern recipes with her own insight and personality!" Hyosun Ro, creator of the blog Korean Bapsang

Growing up in a small town in Korea, Hyegyoung K. Ford learned to cook traditional Korean dishes by looking over the shoulder over her mother in the kitchen just as her mother did when she was young. After leaving Korea, Ford wished to document these recipes and pass them on to her children, leading her to create the food blog Beyond Kimchi. Following its success, Ford has put together 75 of her favorite homestyle Korean recipes along with extensive and thorough tips in her first cookbook, KOREAN COOKING FAVORITES: Kimchi, BBQ, Bibimbap and So Much More, so that readers of all levels of experience can bring the authentic dishes of Korea into their home kitchens.

"Success in Korean cooking depends not only on the recipe itself, but even more on the know-how and cooking technique," writes Hyegyoung in the introduction. "That is why I have included many cooking and other kitchen tips on how to succeed with these scrumptious Korean dishes, even in a Western kitchen."

In chapters Savory Snacks, The Main Event, One-Dish Wonders, Oodles of Noodles, Heart-Warming Soups and Stews, A Bunch of Banchan, Almighty Kimchi, and Sweet Treats and Drinks, KOREAN COOKING FAVORITES has classic dishes that are found in Korean restaurants all over the world, as well as traditional and modern favorites more commonly found in Korean homes.

Familiar and flavorful dishes like sweet Soy-Glazed Korean Fried Chicken, rich Classic Korean Beef (Bulgogi), 40-minute Easy Festive Sweet Potato Noodles with Vegetables (Japchae), Easy Authentic Cabbage Kimchi plus six other variations, and many more can be prepared quickly and with ease using Ford's instructions and tips. While some dishes included are more traditional and not always found in restaurants, such as flavor-packed, sour and savory Kimchi Pork Fried Rice, Spicy Squash and Pork Stew, a balanced and hearty regional soup, and one of many of Korea's famous side dishes, Spicy Cucumber Salad, others are more trendy in Korea, like Steak and Avocado Rice Bowl, Korean Twisted Donuts, and the viral phenomenon of Addictive Soy Sauce Eggs served over rice.

With KOREAN COOKING FAVORITES, readers will be able to easily cook, enjoy, and learn about authentic contemporary and traditional Korean dishes, as well as share this history-rich cuisine with family and friends.
Sample recipes from Korean Cooking Favorites: Kimchi, BBQ, Bibimbap, and So Much More





(1 Votes)
Other cookbooks by the authors