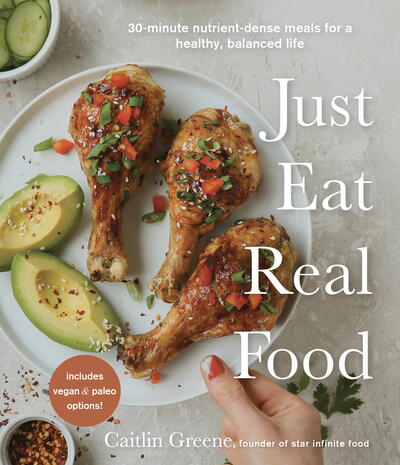 Just Eat Real Food: 30-Minute Nutrient-Dense Meals for a Healthy, Balanced Life
Finding the right balance between healthy, convenient and delectable recipes can be challenging when you're constantly on the go. Luckily for you, Caitlin Greene knows a little something about pulling together meals that are as vibrant and nutritious as they are indulgentin as little time as possible. Founder of the wildly popular blog and Instagram account Star Infinite Food, Caitlin is one of the leaders in modern health-conscious cooking centered on intuitive eating and food freedom. Followers have dubbed her cuisine "healthy food porn." And in her debut cookbook you'll get more than 60 of her best recipes for everyday meals that will thrill, comfort and nourish you through and through. Did we mention that they take no time at all to put together?

Get a mouthful of decadence in each bite of her Mediterranean Turkey Burgerswhich come together in just 25 minutesor the equally effortless Creamy Tuscan Chicken. Caitlin has got you covered if you crave plant-based deliciousness with her Smashed Brussels Sprouts with Maple-Mustard Apples and Stuffed Zucchini with Cauliflower Tabbouleh, both of which are ready to eat in 30 minutes or less. Instead of denying your cravings for sweets, Caitlin helps you make smart swaps with unrefined sugars and nutritious gluten-free flours. Whip up twists on classic desserts like her Chocolate Banana Tart and Cinnamon Roll Cookies for all the familiar comfort with added pizzazz.

With Caitlin's wealth of cooking knowledge and gentle guidance at your fingertips, pretty soon your weeknights will turn into exciting moments of reconnection with your love of foodand by extension, your well-being.
Sample recipes from Just Eat Real Food: 30-Minute Nutrient-Dense Meals for a Healthy, Balanced Life





(1 Votes)
Other cookbooks by the authors