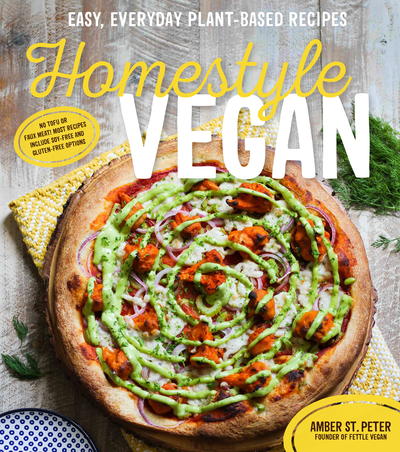 Homestyle Vegan: Easy, Everyday Plant-Based Recipes
Amber St. Peter is known for her delicious and approachable recipes that inspire the vegan community to cook at home more often. In Homestyle Vegan, you'll have access to creative vegan remakes of old favorites, such as:

-Chick'un + Dumplings
-Buffalo Cauliflower Pizza with Ranch Sauce
-Tomato Basil Soup with Cornbread Croutons
-Apple Cider Donuts
-Baked Sea Salted Soft Pretzels with Spicy Mustard Dip
-Biscuits with Mushroom Gravy
-Double Fudge Mint Brownies
-Apple Cinnamon Dutch Baby with Crumbled Walnuts
-Pile O' Poutine

With 80 incredible recipeseach paired with a beautiful photothis book will have both vegans and meat-eaters begging for more. You'll be cooking healthier dishes that remind you of home in no time.
Sample recipes from Homestyle Vegan: Easy, Everyday Plant-Based Recipes





(1 Votes)





(1 Votes)





(1 Votes)
Other cookbooks by the authors