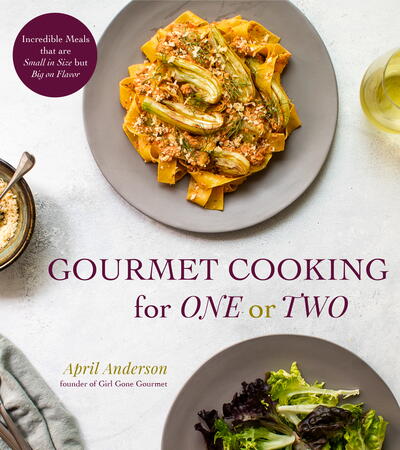 Gourmet Cooking for One or Two: Incredible Meals that are Small in Size but Big on Flavor
Gourmet Cooking for One or Two provides must-have comfort food–inspired recipes full of the flavors you'd expect in a large casserole, soup or stew, but scaled down to just one or two servings. Now you won't have tons of leftovers that, despite the best intentions, get tossed or end up in the back of the freezer. You can cook elevated dishesusually reserved for big occasionsjust for you, any night of the week.

You'll find updated classics, simple one-pan dinners and 30-minute single-serving dishes suit- able for chefs of any level. Try Molasses-Braised Short Ribs with Pan-Seared Onions, Steak House Dinner, Two-Slice Sun-Dried Tomato and Sausage Lasagna or Spinach Pork Roulade with Arugula Prosciutto Salad. Forget takeout, grocery store salad bars and frozen entrées. This book proves that cooking for yourself can be just as special as cooking for a crowd!
Sample recipes from Gourmet Cooking for One or Two: Incredible Meals that are Small in Size but Big on Flavor





(1 Votes)
Other cookbooks by the authors