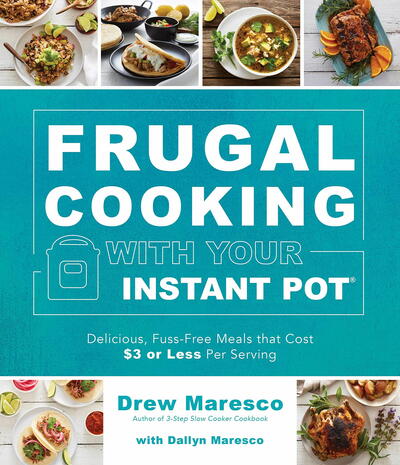 Frugal Cooking with Your Instant Pot: Delicious, Fuss-Free Meals that Cost $3 or Less per Serving
Your Instant Pot® has been saving you time and energy in the kitchen for years and now, it'll save you money, too! With this impressive collection of recipes, you'll learn how to make a ton of incredible, budget-friendly dinners in your Instant Pot® that cost next to nothing just $3.00 or less per serving! Drew Maresco, author of 3-Step Slow Cooker Cookbook, helps you trim away the cost of your grocery bill without ever sacrificing on flavor, thanks to a host of frugal tips and tricks on cooking with less expensive cuts of meat, stocking your pantry with low-budget staples and utilizing fresh produce to its full potential. And as always, these 75 delicious dinners come together quickly and easily thanks to the convenient design of the Instant Pot®!

Cooked to tender, juicy perfection, these scrumptious meals are sure to jazz up your weeknight rotation. Everyone in the family will love the classic flavors of Balsamic Roast Beef and Potatoes, Savory Apple Pork Tenderloin and Creamy Garlic Chicken. Cozy soups like One-Pot Lasagna Soup and Creamy Broccoli Cheddar Soup and unique pasta dishes like Meatball Stroganoff with Egg Noodles are sure to impress any crowd. And don't forget to whip up Drew's culturally inspired dinners, such as Salsa Verde Pork Tacos, Easy Beef Pho and BBQ Korean Beef. With so many mouthwatering options to choose from, you'll save tons of money on groceries and have endless tasty dinner ideas for years to come!
Sample recipes from Frugal Cooking with Your Instant Pot: Delicious, Fuss-Free Meals that Cost $3 or Less per Serving





(1 Votes)





(1 Votes)
Other cookbooks by the authors