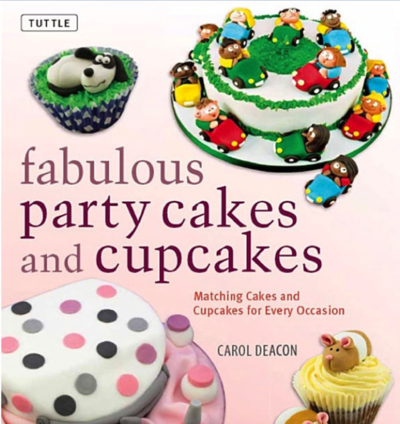 Fabulous Party Cakes and Cupcakes: Matching Cakes and Cupcakes for Every Occasion
Fabulous Party Cakes and Cupcakes, by award-winning cake decorator Carol Deacon, is a perfect beginner's introduction to the often intimidating world of cake decorating, sugarcraft and fondant.

Carol provides simple step-by-step instructions that anyone can use regardless of experience level. Whether it's an elegant Chocolate Butterfly cake, a Silly Soccer cake or colorful racing cars on frosted cupcakes, Deacon has a cake or cupcake for any occasion. Birthdays, baby showers, anniversary celebrations or any opportunity for a party will be transformed by a fabulously decorated cake or cupcake. Deacon includes her secrets and tips for baking delicious, moist cakes and cupcakes and then details the process for combining frosting with imagination to create a feast for the eyes and the taste buds.
Sample recipes from Fabulous Party Cakes and Cupcakes: Matching Cakes and Cupcakes for Every Occasion





(1 Votes)





(1 Votes)





(1 Votes)
Other cookbooks by the authors