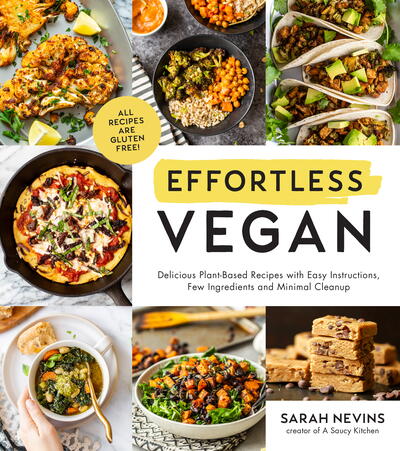 Effortless Vegan: Delicious Plant-Based Recipes with Easy Instructions, Few Ingredients and Minimal Cleanup
Who says preparing vegan, gluten-free meals has to be so hard? Get back to enjoying your time in and out of the kitchen with Effortless Vegan. Painless to prep, simple to cook and completely plant based and gluten free, these delicious recipes focus on full flavors, clean eating and efficiency.

Make breakfast the most important and easiest meal of the day with a filling 10-Minute Smashed Chickpea Scramble or sweet and sustaining Cinnamon-Banana Socca Pancakes. Not to worry if you're more of a lunch or dinner person! Try one of many incredible 30-minute or less meals, like savory Sweet Potato & Black Bean Avocado-Tahini Wraps or spicy Paprika-Roasted Cauliflower Steaks. Love to cook but hate the cleanup? Give your time and taste buds the gift of a one-pot wonder, like the superb Pizza Supreme Casserole. And if dessert is your favorite port of call, you'll fall in love with any of the delectable 5-ingredient sweets, such as the deliciously elegant Mixed Berry Crumble or guilt-free Boozy Peach-Mango Sorbet. Leave your stress behind with this collection of straightforward, no-fuss recipes that make vegan cooking so easy it's effortless.
Sample recipes from Effortless Vegan: Delicious Plant-Based Recipes with Easy Instructions, Few Ingredients and Minimal Cleanup
Other cookbooks by the authors