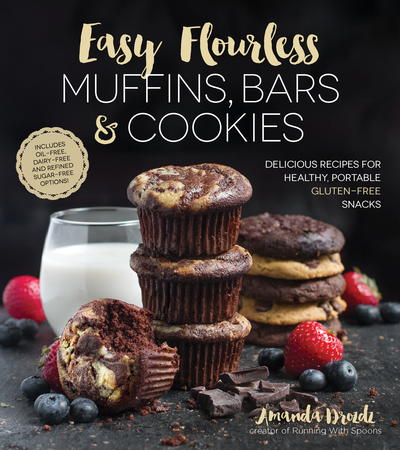 Easy Flourless Muffins, Bars & Cookies: Delicious Recipes for Healthy, Portable Gluten-Free Snacks
Indulge your sweet tooth the healthier way with the simple, quick and tasty delights in Easy Flourless Muffins, Bars & Cookies. All of the recipes come together in a snap and are completely gluten-free, using clever techniques and easily found wheat alternatives to get that scrumptious light and fluffy texture in muffins, and the classic chewy goodness in bars and cookies. Amanda Drozdz, health coach and snacker extraordinaire, believes healthy living isn't about cutting out the foods you love; it's about making smarter choices. You can do just that with the recipes in this book. Perfectly balanced with just the right sweetness, each muffin, brownie, bar and cookie tastes like an indulgence, but is full of nourishing ingredients you can feel good about eating for breakfast, a midday snack or dessert. Many are also grain-free, oil-free, dairy-free, vegan and refined sugar–free, but they're packed with so much flavor you'd never even know! Plus, they're great portable snack solutions for families with kids.

A sampling of the goodies inside are: Honey Almond Oatmeal Muffins, Pumpkin Cream Cheese Muffins, No-Bake Dark Chocolate Trail Mix Bars, Chocolate Hazelnut Stuffed Muffins and Chewy Ginger Molasses Cookies. For the snackers, the midnight brownie-munchers and the busy health-minded parents, these recipes will have you smiling with every bite.
Sample recipes from Easy Flourless Muffins, Bars & Cookies: Delicious Recipes for Healthy, Portable Gluten-Free Snacks





(1 Votes)
Other cookbooks by the authors