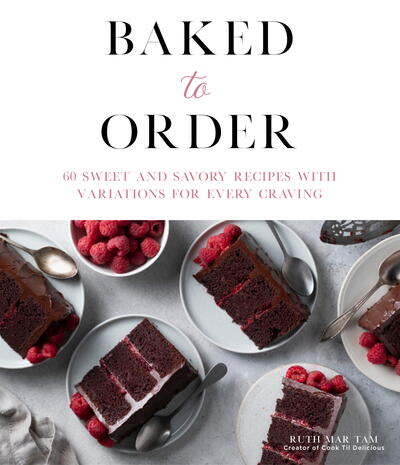 Baked to Order: 60 Sweet and Savory Recipes with Variations for Every Craving
It's never been easier to find the perfect recipe for every mood than with this outstanding collection of sweet and savory treats. Ruth Mar Tam shares 60 of her favorite recipeseach with a number of variations and flavor combinations, so you can tweak them to suit any craving. While each of her recipes is delicious in its original form, the variations she offers make it easy to mix up a recipe based on ingredients you happen to have on hand or simply cater to your own personal preferences.

Once you've mastered Ruth's mouthwatering Spiced Coffee Crumb Cake, give it a fruity twist with her Apple-Rye variation, or make it nutty with the addition of a Nut Streusel. Or maybe you love the Tomato and Ricotta Galette as a light lunch, but you need something a little sweeter to serve at the end of a mealin that case, try out the Plum and Honey Frangipane variation for a crowd-pleasing dessert.

With sweet treats like Rhubarb and Walnut Linzer Cookies, Earl Grey Bundt Cake and Strawberry Palmiers, and savory options like Smoked Paprika and Cheddar Gougères, Nearly Naked Sourdough Focaccia and Mushroom Diamond Pastries, Ruth's recipes offer you all the options you need for unique, creative, andmost importantlydelicious baking.
Sample recipes from Baked to Order: 60 Sweet and Savory Recipes with Variations for Every Craving





(1 Votes)
Other cookbooks by the authors