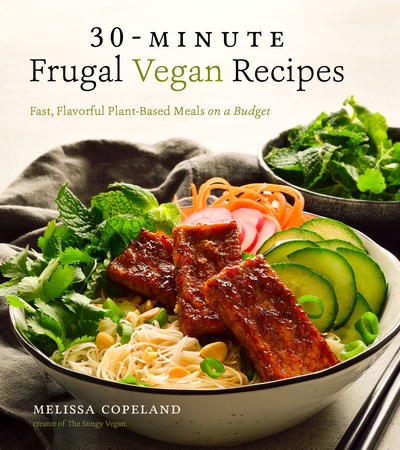 30-Minute Frugal Vegan Recipes
"There are certainly times when you want to splash out on exotic ingredients and linger over the stove, but let's face it, most of us don't have the time or budget for that every day. Melissa understands this and shows exactly how easy it is to make flavorful, imaginative, frugal vegan food with accessible ingredients, fast!" —Melanie McDonald, author of Vegan Comfort Cooking and creator of A Virtual Vegan

"Melissa's gorgeous book is full of affordable recipes that you can make no matter what your budget is." — Kathy Hester, author of The Ultimate Vegan Cookbook for Your Instant Pot

Convinced that eating vegan is crazy expensive, only properly done with expensive and hard-to-find ingredients? Think again. Melissa Copeland, author of 30-MINUTE FRUGAL VEGAN RECIPES and creator of The Stingy Vegan blog, proves it's possible to make fast and delicious plant-based meals while still sticking to a budget.

"In this book, I wanted to write recipes that are not only quick to prepare but also make good use of a basic repertoire of spices, seasonings and cooking techniques to infuse maximum flavor into simple and easily accessible ingredients," writes Melissa in the introduction.

With 30-MINUTE FRUGAL VEGAN RECIPES you can skip expensive vegan substitutes and pricy health food stores all while enjoying nourishing meals that are as pleasing to your palate as they are to your bank account. The 75 recipes in the book transform supermarket staples into mouthwatering meals like Coconut-Lentil Curry, Mint and Pea Pesto Pasta, Creamy Sesame Ramen, Vietnamese Tofu Noodle Salad, and Summery Peach and Tomato Panzanella.

Sample recipes from 30-Minute Frugal Vegan Recipes





(1 Votes)





(1 Votes)





(1 Votes)
Other cookbooks by the authors