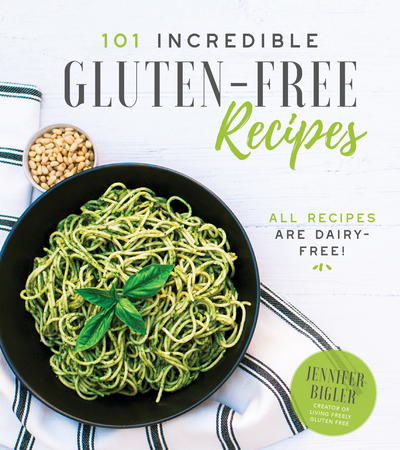 101 Incredible Gluten-Free Recipes
In this unmatched collection of gluten- and dairy-free recipes, Jennifer Bigler, founder of the blog Living Freely Gluten Free, lays out 101 tasty dishes that your family will quickly fall in love with.

Try everything from filling mains, like Hearty Homestyle Chicken Potpie, to lighter dishes, like Macadamia Coconut-Crusted Mahi-Mahi, to all those decadent meals you didn't know you could still enjoy, like Easy Cheesy Baked Ziti and Turmeric Sage Fried Chicken. With snacks like Jalapeño Popper Stuffed Mushrooms and quick sides like Orange-Maple Carrots, you can endlessly mix and match your dinner plate! There are also fluffy, spot-on bread recipes, such as Everything-but-the-Gluten Bagels, and mouthwatering desserts, like Fudgy Pecan Brownies. And with a whole chapter of nourishing breakfasts, like French Toast Casserole and Grain-Free Granola, you and your family will have a plethora of reliable meals to start off the day.

With these amazing recipes, Jennifer helps anyone with food allergies reclaim their kitchen to make mealtime safe, easy and incredibly flavorful once again. With tons of Paleo, Whole30 and vegan options sprinkled throughout, there's truly something for everyone.
Sample recipes from 101 Incredible Gluten-Free Recipes





(1 Votes)
Other cookbooks by the authors