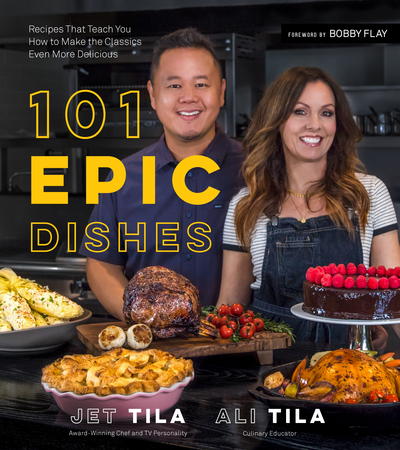 101 Epic Dishes
"From rice to meats to soup to vegetables, Chef Jet & Ali take the mystery out of cooking and, I promise, you will blow yourself away from the very first recipe you try." —Duff Goldman, pastry chef and star of Cake Masters

Here's the truth: making food worth savoring and showing off isn't as difficult as you like to think it is. All it really takes is a solid foundation of cooking techniques, and lucky for you, celebrity chef and self-proclaimed Mr. Miyagi Jet Tila is ready to pass all his know-how on to you in 101 EPIC DISHES: Recipes That Teach You How to Make the Classics Even More Delicious.

Jet and his pastry partner-in-crime, Ali have carefully selected the most essential recipes that pull double duty by tasting delicious and teaching you foundational cooking skills that will easily transfer to other cooking endeavors. Mastering perfect pan-roasted rib-eye steak means both that your dinner is going to be delicious and that you are ready to season and sear other cuts of meat like a pro. southwestern BBQ and ranch chicken salad helps you build must-have knife skills, and crumbly apple pie will arm you with the ability to make the perfect flaky pie dough that can be used in countless other desserts.

101 Epic Dishes teaches you the most important cooking skills you need to kick your kitchen game up a few notchesall while whipping up some delicious dishes.
Sample recipes from 101 Epic Dishes





(1 Votes)
Other cookbooks by the authors