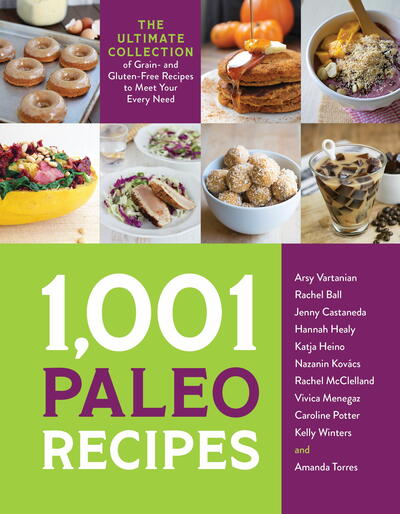 1,001 Paleo Recipes: The Ultimate Collection of Grain- and Gluten-Free Recipes to Meet Your Every Need
In this revised edition of The Ultimate Paleo Cookbook, ten popular Paleo bloggers have come together to bring you over 1,001 recipes in this ultimate, extensive collection to help you stay gluten- and grain-free. With over 100 additional recipes, this is the largest compilation of Paleo recipes in print, and it satisfies every craving in one convenient volume. Each of the authors selected 50 to 80 of their favorite recipes from their blogs and created 10 to 20 original recipes, all assembled in this one amazing Paleo resource.

Inside, you'll find recipes for everything Paleo with an emphasis on flavor as well as convenience. This book includes a wide selection of easy weeknight dishes, budget-conscious meals and slow cooker dishes. In Easy, Fast, Few-Ingredient, the entire chapter (with over 100 recipes) is designed to make going Paleo or staying Paleo as easy as possible. With an unprecedented variety of dishes to choose from, you'll never be at a loss of what to cook!
Sample recipes from 1,001 Paleo Recipes: The Ultimate Collection of Grain- and Gluten-Free Recipes to Meet Your Every Need





(1 Votes)
Other cookbooks by the authors