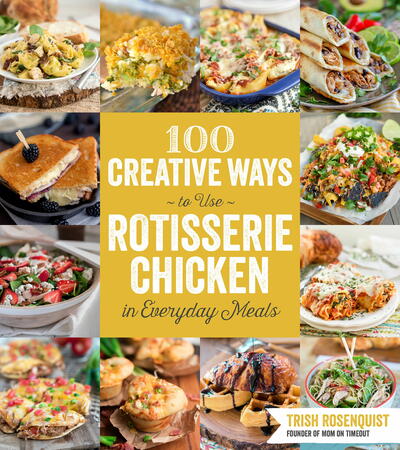 100 Creative Ways to Use Rotisserie Chicken
Weeknight dinners have never been easier. With a rotisserie chicken from your local grocery store, you can create family favorite dinners filled with savory, juicy and succulent chicken with just a few finishing touches! You're not only saving time by having someone else prepare the chicken, but you'll save money too!

Seemingly complicated recipes become easy, fast and delicious. Trish offers a wide range of exciting dishes, including: Chicken Cordon Bleu Pasta Casserole, Ravioli Skillet Lasagna and Pint-Sized BBQ Chicken Pizzas. The recipes span cultures and cuisines with Chicken Madeira with Roasted Asparagus, Baked Chicken Chimichangas and Chinese Chicken Salad.

The recipes are divided into chapters that fit your lifestyle - 5 Ingredients or Less for when you don't want to fuss over shopping; 20-Minute Dinners when you need something fast; and Slow Cooker Creations when you want to come home to a meal that's ready, taking full advantage of the deliciously savory flavor of rotisserie chicken.
Sample recipes from 100 Creative Ways to Use Rotisserie Chicken





(1 Votes)





(1 Votes)





(1 Votes)
Other cookbooks by the authors