Sunflower Seed and Quinoa Burgers
Cookbook
Published by Robert Rose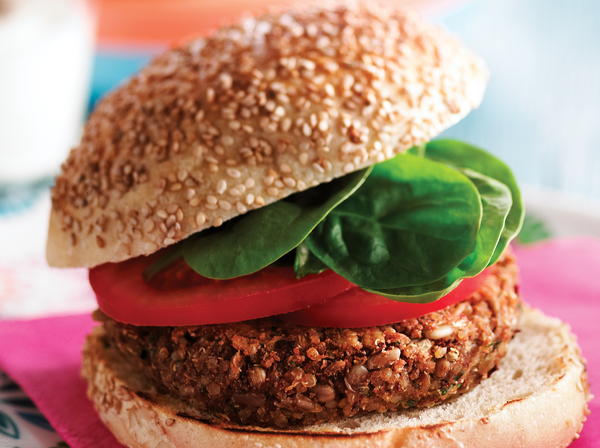 Sunflower Seed and Quinoa Burgers
This image courtesy of Colin Ericcson
Editor's Note: This summer, serve up these delicious Sunflower Seed and Quinoa Burgers on the skillet. This easy gluten-free recipe is also vegetarian. Although it doesn't have beef, it's still loaded with flavors and is sure to be a hit with the entire crowd. Whether you plan to serve these burgers poolside this summer or just want something delicious to eat in the middle of winter, this easy gluten-free recipe is one to keep right at your fingertips. If you're looking for even more quinoa recipes, then take a look at the author's recipe for Mini Crab Quinoa Cakes. 

These veggie burgers have great texture, thanks to a combination of quinoa, sunflower seeds and red kidney beans. They get a power-up from hot smoked paprika and cumin, offset by luscious Greek yogurt, peppery arugula and sweet tomato. Whenever possible, use whole-grain or multigrain hamburger buns.
Serves4

Occasional Fresco, Buffet Meal, Card Night, Family Get Together, Game Day, Pool Party, Sports Party
Dietary ConsiderationGluten-free
Ingredients
Food processor
1½ cups cooked quinoa (see Notes), cooled 375 mL
3 cloves garlic, coarsely chopped 
1 cup (250 mL) rinsed drained canned red kidney beans
¾ cup (175 mL) lightly salted roasted sunflower seeds
½ cup (125 mL) packed fresh cilantro leaves
2 teaspoons (10 mL) ground cumin
¾ teaspoon (3 mL) hot smoked paprika or chipotle chile powder
½ teaspoon (2 mL) fine sea salt
2 teaspoons (10 mL) olive oil
4 hamburger buns (gluten-free, if needed), split and toasted 
4 large tomato slices 
2 cups (500 mL) packed aruqula or baby spinach
1/3 cup (75 mL) plain Greek yogurt
Instructions
In food processor, combine quinoa, garlic, beans, sunflower seeds, cilantro, cumin, paprika and salt; pulse until blended but still chunky. Form into four ¾-inch (2 cm) thick patties.

In a large skillet, heat oil over medium heat. Add patties and cook for 4 minutes. Turn patties over and cook for 3 to 5 minutes or until crispy on the outside and hot in the center.

Transfer patties to toasted buns. Top with tomato, spinach and dollops of yogurt.
Preparing Quinoa
A significant part of quinoa's appeal is its ease of preparation. It can be cooked several different ways to produce a tender, fluffy grain, or it can be toasted (dry or in a bit of oil or butter), yielding crisp, crunchy quinoa that can be used as you would chopped nuts. One constant, no matter how you plan to cook quinoa, though, is a quick rinse to remove any residual saponin coating.

Removing Saponin: Virtually all quinoa that reaches consumers in North America and Europe has already had the saponin removed (this includes quinoa flour and quinoa flakes). Nevertheless, it is important to give quinoa seeds a brief rinse before use, to remove any saponin residue that may remain after processing. Place the quinoa in a fine-mesh strainer and rinse thoroughly under cold water for 30 to 60 seconds. This ensures that the cooked quinoa will have a delicately sweet, pleasant flavor.

If you are uncertain whether the quinoa you purchased has had the saponin removed (for example, if you bought quinoa from a bulk foods container), soak it more thoroughly: submerge the quinoa in enough cold water to cover it by 1 inch (2.5 cm). Let stand, stirring once or twice, for at least 5 minutes or as much as 2 hours. Drain the quinoa through a fine-mesh sieve and rinse thoroughly under cold water for 30 to 60 seconds.
Quinoa Cooking Methods
To cook quinoa for a side dish or breakfast porridge, or for use in a recipe that calls for cooked quinoa, you can use the simmer method, the pasta method or the rice cooker method. All yield equally good results.
The Simmer Method: Simmering is the most common way to prepare quinoa, and the process is very similar to cooking rice: simmer one part quinoa with two parts water until the liquid is absorbed. However, it takes less time from start to finish than rice (a boon for busy cooks), and it is, I would contend, easier to produce consistent results.

To prepare 3 cups (750 mL) of cooked quinoa, combine 1 cup (250 mL) quinoa and 2 cups (500 mL) water in a medium saucepan (see chart below for other amounts of quinoa and water and their corresponding yields). Bring to a boil over medium-high heat. Reduce heat to low, cover and simmer for 12 to 15 minutes or until liquid is just barely absorbed. Remove from heat. Cover and let stand 2 to 3 minutes for an al dente texture, ideal for salads; 5 to 6 minutes for a light, fluffy texture, ideal for side dishes; or 8 to 10 minutes for a softer texture best suited to desserts, breakfasts and incorporation into baked goods. Fluff with a fork.

Darker quinoa seeds — particularly red and black seeds — use the same quinoa-to-water ratio as the more common white quinoa. However, they do not always absorb all of the water in the designated cooking time. If excess liquid remains at the end of the cooking time, Simply drain it off.

Cooked Quinoa Yields:
Uncooked Quinoa: 2 tbsp (30 mL)/ ¼ cup (60 mL)/ 1/3 cup (75 mL)/ ½ cup (125 mL)/ 2/3 cup (150 mL)/ ¾ cup (175 mL)/ 1 cup (250 mL)/ 1 1/3 cups (325 mL)
Water: ¼ cup (60 mL)/ ½ cup(125 mL/ 1/3 cup(150 mL)/ 1 cup (250 mL)/ 1 1/3 cups (325 mL)/ 1½ cups (375 mL)/ 2 cups (500 mL)/ 2 2/3 cups (650 mL)
Cooked Quinoa: 1/3 cup (75 ml.)/ ¾ cup(175 mL)/ 1 cup (250 mL)/ 1½ cups (375 mL)/ 2 cups (500 mL)/ 2¼ cups (550 mL)/ 3 cups (750 mL)/ 4 Cups (1 L)

Note: The pasta method and the rice cooker method produce the same yield ratios; for uncooked and cooked quinoa as the simmer method.

The Pasta Method: The easiest way to cook quinoa is to boil it like pasta. This method is particularly good for individuals who detect residual bitterness from the quinoa saponins. It is not necessary to rinse the quinoa before using this method.

Fill a large pot with water, add salt if desired and bring to a boil. Add the desired amount of quinoa and cook for 10 to 13 minutes or until tender. Drain the quinoa through a fine-mesh sieve. Return the quinoa to the still-warm pan (off the heat), cover and let stand for 2 to 3 minutes. The moisture in the cooked quinoa will steam it slightly, producing a light and fluffy texture.

If using this method to prepare quinoa for a salad, do not return the drained quinoa to the pan. Instead, rinse it under cold water until cooled. Shake the sieve to remove as much water as possible, then transfer the quinoa to a bowl and fluff with a fork.

The Rice Cooker Method: Prepare the quinoa in a rice cooker using one part quinoa to two parts water. Follow the manufacturer's instructions for cooking white rice. When the cooking cycle is complete, fluff the quinoa with a fork.

The Thermos Method: Quinoa (and almost any other grain) can be prepared with ease using this little-known method. Place 1 cup (250 mL) quinoa in a 4-cup (1 L) Thermos. Add 2 cups (500 mL) boiling water. Tightly close the Thermos and turn it upside down several times to combine the quinoa and water. Let stand for 6 to 8 hours. Remove lid, shake quinoa into a medium bowl and fluff with a fork. This method yields 3 cups (750 mL) cooked quinoa. You can use the quinoa immediately (it will still be warm) as a side dish or as part of a main dish. If prepared overnight, it is also a perfect way to have ready-to-eat quinoa for breakfast: simply drizzle the quinoa with milk or non-dairy milk and sprinkle with your favorite toppings. Alternatively, let the quinoa cool and refrigerate or freeze it for future use.
2012 Camilla V. Saulsbury
YOUR RECENTLY VIEWED RECIPES
Free recipes, giveaways, exclusive partner offers, and more straight to your inbox!